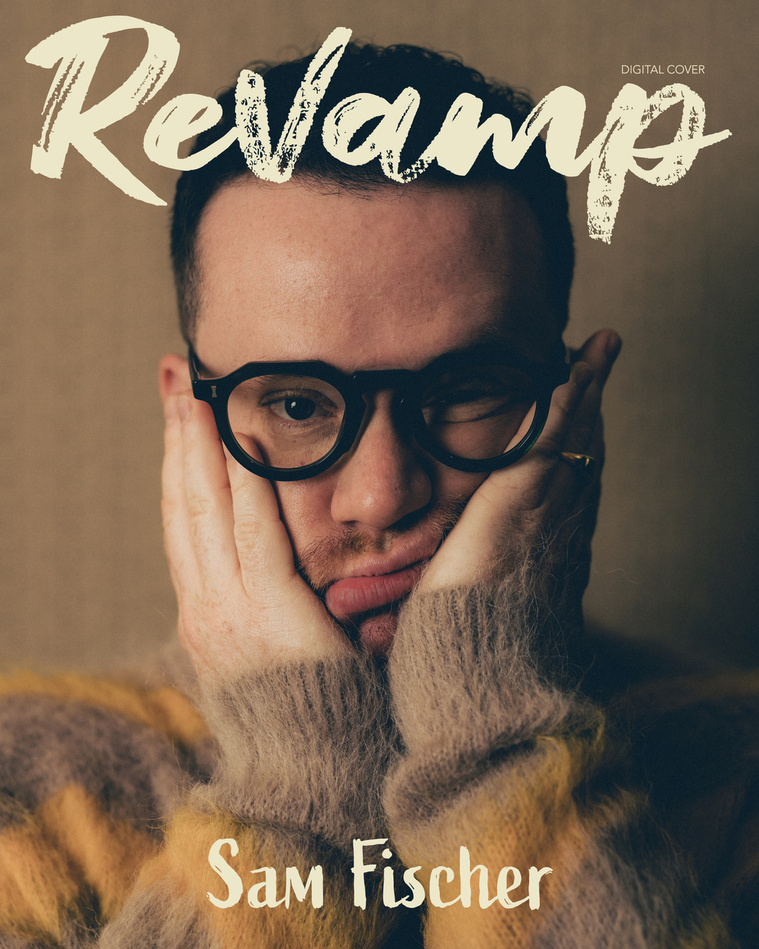 We release our first cover of June with the talented, Sam Fischer. Fischer's teamed up with the likes of Louis Tomlinson, Jessie J, Ciara, Demi Lovato and many more. His biggest single 'This City' has had over 500 million worldwide streams and stayed in the UK Top 20 for 11 weeks. The track is also double platinum in Australia, platinum in the UK and Gold in the US, New Zealand and Switzerland.
Fischer is here to talk to us about how important mental health is, his reaction to the success of 'This City' and today he's released his brand new single 'Alright' with the legend that is Meghan Trainor.
Hi Sam, Wow!, what a journey you have been on, was music always something you wanted to create?
Yeah, I guess so! Probably from the age of eleven or twelve. I remember my Mum got me my very first album which was a Human Nature album and I listened to it all and I went back and asked her "I want another album!" and she said "No" [laughs] and I said, "Ok, I'm going to make my own". I started songwriting out of spite and it lead me to where I am now.

You have collaborated with the likes of Niall Horan, Demi Lovato, and many more, knowing you're performing with such highly respected people in the industry, how did these collaborations come about?

Niall and I have never collaborated on a song but I was going to open for Niall on his tour in 2020 but we know what the fuck happened there. He once covered This City and I once danced in front of it on a green screen, so that is what you can call a collab, that happened totally organically, he slid into my DMs. There was a video of him singing shirtless and I was like you know I have to post this now. He's a great mate!

I wrote 'What The People Say' in 2019 and at the time was independent I was writing the song and I was like, I really want this for myself. I remember sending it over to Demi's team and Demi loved it. Demi recorded it for her own album and it was going to be her song and her single and then things happened and a couple of years later 'This City' had blown up and I went back and asked if she wanted to do this a duet. That was more of official channels! It just goes down the DMs, you get friendly with other artists and you just see what you can get.
You have spoken previously about being screwed over by a US label, and you didn't want that to ruin your career, how did you turn this around, and still be motivated by music?
I didn't do anything, it was my fans, it was the public. I was ready to hang my hat after my first record deal. I wouldn't use the words "screwed over" now I would say the relationship fell apart and it wasn't good for my mental health. I was literally going to peace out and be a songwriter but it was the fans that took This City and made it what it is now. They gave me this life and gave me this career! It was finding the right team, the label, and good people. I have everyone else to thank for turning my career around and having myself here.

'This City', was a massive breakthrough for you, with the likes of TikTok, why do you think this song gave you the most considerable significance for people?

I don't know. I wish I knew! If I knew what it is and what the magic is about This City I would bottle it, sprinkle it on all of my other songs. I think the true mark of a true artist and great songwriter is who is able to give, and able to provide words for someone who hasn't found them yet. My favorite artist Sasha Sloan creates lyrics that you haven't found yet and it feels like a weight gets lifted when somebody else says it. This City was going crazy before the pandemic but with the pandemic and all these cities shutting down and people being locked in their homes. It was kind of the soundtrack of the pandemic in a weird way but I don't know and I'm happy it happened. [laughs]
You talk openly about your mental health during the pandemic, do you think singing and songwriting gave you that peace away from your mental health, and did you put all your struggles into songwriting?
I'm quite bad at explaining what I feel and how I feel but I can write lyrics about it and I'm very open about my mental health and if I'm open and vulnerable about it then others would feel comfortable doing that as well. I write about it in a way that doesn't feel confronting. It did give me peace but it also kind of remind me of what I was going through which was kind of tough. I defiantly didn't set out to be a public person that represents the mental health struggle, I was just writing out my experience and it was kind of surprising because This City felt like an anthem of hope. We're going to get through this and it will be OK! I wrote the song at a time when I was very sad and wanted to quit and people took it and gave it a different meaning from when I wrote it.

As an artist, we underestimate the responsibilities that our songs give us then. With This City, I was getting DMs from people all over the world and it was people trauma dumping saying thank you for this song, it's helping me! At the start, I was responding to everyone single one because these people were opening up and being honest with me and I had to respect that and honor that by replying. It got to the point where it really affected me because I was reading about people's stories that people lost people to covid and living crisis etc. As someone who was struggling with my own mental health, it made everything so trivial and it made me feel like I wasn't alone because everyone else was struggling.
You've released your new single with the All About That Bass singer, Meghan Trainer called 'Alright'. What can you tell us about the single?

It's more than Alright! It's a fucking banger, it's so fucking good! I wrote it when I was in the shower (and as a creative all things happen when you're in the shower). I started to get a tight chest and I thought what the hell is happening? Because I never get panic attacks. I kept on repeating "I'm gonna be Alright" and then my weird brain was like that can be a song! I wrote it in 2018. Megan and I have a mutual friend called Jordan and she was helping me out with some management stuff and she really wanted to introduce me to Meghan. So Meghan and I just hung out and we're like real fucking homies.

When I got to open to Lewis Capaldi in 2019, she came to the LA show and I performed Alright and she came backstage and asked me "What the fuck was that song bro?" and I was like "It's a song called Alright" and she asked me to send it to her now and asked if she can be on the track. I was very honored! The next day I went to her house, and she recorded her vocals and that was that. I'm so glad to see Meghan on top of the world again because she has been dominating for so long and she doesn't get her flowers, she doesn't get the respect she deserves. She's not only an amazing artist or an amazing singer, but she's also a song motherfucking writer, she's a producer, she produces the stuff out of her songs cause she knows what she wants!

So we recorded it in 2019 and then the pandemic happened…we saw each other at our mutual friends' wedding at the beginning of this year. I hadn't seen Meghan in two years, I stepped out of my hotel room and she was there in her sprinter and she sees me and shouts "Oi Sam Fischer! Let's make a TikTok" and I'm like "That's what you wanna say to me? We haven't seen each other in two years! Ok". We were at the wedding and she asked me "When are we putting out 'Alright'" and I said, "Whenever you want". There's a lot of love between us, I'm so excited it's finally out!

I'm sure your fans would love to know. What is next for you and what are you currently working on?

I'm going on tour from May 31st to June 9th. It's an acoustic tour which I'm very excited about. I played a show in Sydney and it sold out super quickly and it was a little acoustic moment. What I love about that is I get to bring people together and they get to hear the songs when they're first written. So, It's going to be my first time playing in a lot of cities and I'm going to be in London on June 8th and 9th and then my album! The album is coming later in the year, it's a lot we're working on, and also trying to move to the UK by the end of the year. A lot of things are happening so stay tuned!

'Alright' by Sam Fischer & Meghan Trainer is out today! Stream it here.