Rukku Nahar
15th September 2023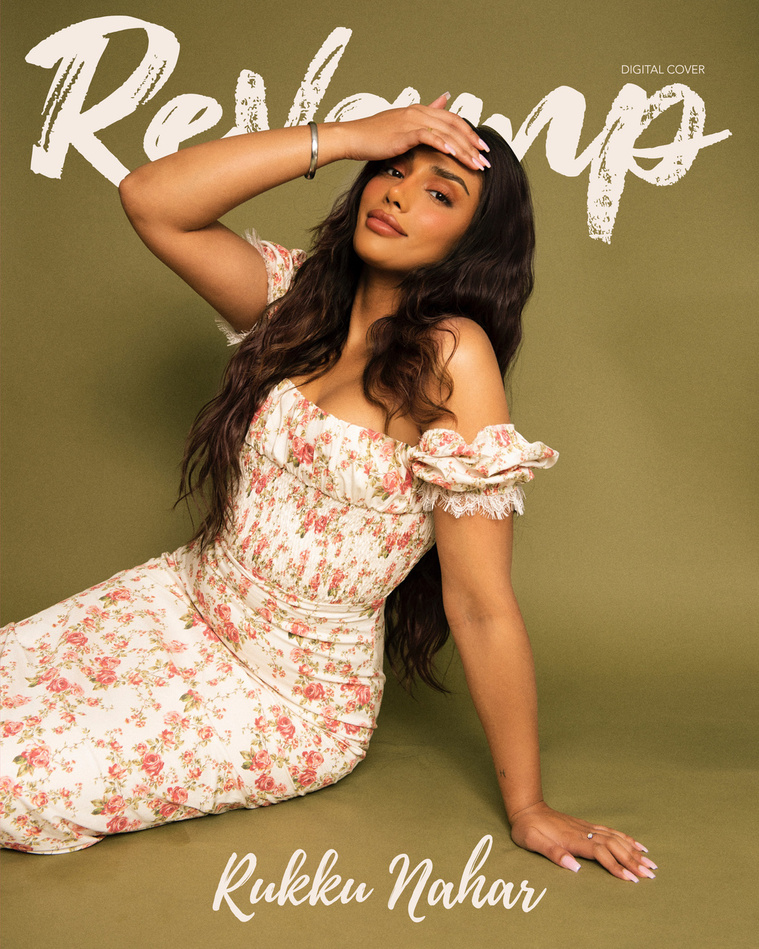 Rukku Nahar is a name that is breaking into the acting industry. She had her first audition at fourteen years old with no drama experience and then got that role straight away. Since then Nahar has never looked back and followed that path to make a big name for herself. Starring in big shows such as EastEnders to Flatmates and now starring in a Bollywood film with Kareena Kapoor we can definitely say Rukku Nahar knows what she's doing.
Rukku! Thank you for being our latest cover star. We've got so much to talk about but let's start with your childhood. What was growing up like?
Firstly, Hey! I'm so excited to be on the front cover of this magazine.
So, growing up me and my brother moved between our mums and dads a lot as they've been separated for as long as I can remember. Was bought up in a single parent household. Me and my brother have been through a lot together and he'll always be my best friend! I always turn to him if I'm ever stuck or need advice on anything. Growing up we depended on each other (still do) but being the eldest encouraged me to become very independent and efficient from very early on. I grew up with a lot of family around me and that's something I hold onto even now.

You're in the acting world. Have you always wanted to be an actor?
Surprisingly I'd never dreamt of becoming an actor until I was about fourteen years old. When I was picking my GCSE options there was a block where there were no subjects that interested me whatsoever but I had to pick one and Drama was in there, so I just picked that. Around the same time, my Dad was pushing me to do this musical, Guys & Dolls. I remember I didn't want to do it because I didn't feel confident enough. My Dad heard me singing and thought I should give it a go and if i didn't like it he said I'd never have to do it again. I was so scared as I had to sing in front of people for the first time instead of just in the shower. I remember being so nervous I was shaking, but very soon after I got a response that I had got in, then went on to start rehearsals and after performing my first few shows. I had never had a feeling like that before! I had learnt so much from that show and I could not wait to keep learning more! I just got this buzz from it and ever since then I have not stopped acting.
People would recognize you from shows like EastEnders where you played Habiba and starred in Flatmates with our cover star, Richard Wisker. What was it like being part of these shows?
I love my job because it doesn't feel like I'm working and I that's why I enjoy it so much. I love using my experiences, positive or negative to create something. Traveling, meeting new people and getting to connect with them is so special to me. Cast and crew members can feel like little families on every individual job! Almost every project I've worked on I've always made such great friends and always stayed in touch with people throughout my life. You share your time with new people on and off set and create great friendships with like minded individuals. It's so important for me to be around creative people; for the energy and motivation and I love learning from them, so that's probably the best part about being on those shows.
Did you enjoy being on a big British show like EastEnders? Did you get nervous doing it?
If ever there was a soap I wanted to star in it would be EastEnders. It's the one I grew up watching! Whenever people found out I was acting they would always say "When are you going to be on EastEnders then? Especially the South Asian community! It was so nice to be able to say "I'm on it now". EastEnders is a job where it works like a machine. I've never had to learn so much so quickly before. When I started I was nervous but more excited! I learnt very quickly. This experience equipped me for so many things, especially self tapes as I could learn my lines so quickly! On EastEnders, there were super early starts and late finishes and the turnarounds were so quick. I would finish work but have so many lines to learn for the next day. So it kept me working and I loved that routine. You come off a soap and feel like I can do anything now because your brain is processing so much information that you feel like there's nothing you can't do.
You're starring in a movie called 'The Buckingham Murders' with Kareena Kapor. What can you tell us about this story? And who you're playing?
Firstly, filming with Kareena Kapoor, a Bollywood icon was a tick off the bucket list! I've been watching her since I was a little girl and I couldn't even dream of working with her because it felt impossible. I didn't realise she was on this film until my wardrobe fitting. They asked me "Do you know who the number one on the call sheet is?" I said "No" and they responded with "Kareena Kapoor" I didn't even put two and two together because I thought it would have been someone else in the UK with that name. So when I saw her face to face I was in complete shock and I was trying not to fan girl [laughs]. Working with her was amazing.
The film is a crime/ thriller, a cross-over between Bollywood and UK. I know that Bollywood hasn't explored that yet, so it's a new venture for them. It was all shot here in the UK. I'm playing the role of a detective for the first time alongside Kareena.
With us being creatives. How do you find the industry? What makes you keep going and not giving up?
Personally, I've experienced so much change in my life, so many highs and lows, and what stayed consistent was my ambition, hunger and drive to create from emotion! From the day I first performed it was such a release for me that I never felt like it was work. That feeling never stopped as I kept doing it. There are tough moments in the industry when it's quiet and you can find yourself questioning "Why am I doing this?" or "Am I enough?" as you are faced with rejection. In those moments it's important to have a good network of people around you to remind you of why you do what you do. If I'm being honest I wouldn't know what giving up would look like because this is all I want to do! It continues to drive me. The industry can be so uncertain, there are more nos than yeses, and trying to keep strong willed throughout it is so challenging, but I try and remember why I started. My friend said something to me that stuck with me, "we have to be delusional and keep being delusional until we make it happen". I believe if you can envision something you can do it. Whatever is meant for you won't pass you. My belief in that is so strong.
I've learnt over time not to look at a 'no' as a closed door, it's a no for now but it could open a door that's meant for you later on. For example, I went up for a role where I had five screen tests and I didn't get picked for it. However, a year later they had me in mind for another role better suited for me and had asked me to come straight in for it. That was for Hollyoaks.
Do you have any dream roles that you would love to do?
I have a few dream roles. Since I was a little girl if there was a World Book Day or Dress up day I would go as Lara Croft. I wanted to be in Tomb Raider so bad! It would be an absolute dream to play Lara Croft. I want to star in more action films, another dream of mine would be starring in a Marvel film. Growing up with two brothers I was forced to like Marvel and after watching almost every Marvel film I thought I would love to be a part of this and play a Superhero or even a villain! I'm also a massive fan of High School/ Teens dramas, I would love to star in shows like Gossip Girl or Riverdale and literally anything Disney! They're all so different but I'm so excited to explore and play different roles in the future.
Lastly, what are your plans for the rest of the year?
I'm having some time in LA for now! It's been a dream of mine to come here since I was a teenager. I felt like right now was a good time to take this trip. I'm fortunate enough to sign with management out here so excited to explore my options.