Phoenix Chi Brown
5th July 2023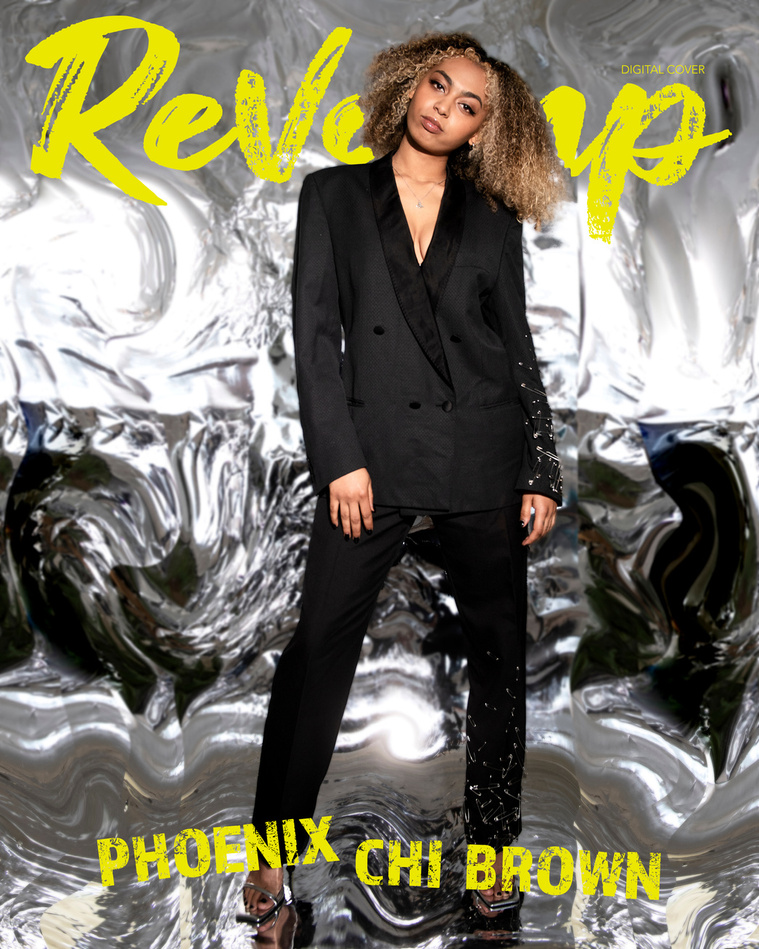 After abruptly moving back to London after 10 years in LA due to Covid and an expired visa, Phoenix Chi Brown is firmly finding her feet on the city's concrete streets. And despite having a mum who we've grown up to learn is anything but scary (we're talking about Mel B), Phoenix is making a name for herself as a fashion chameleon and an up and coming DJ.
We had the opportunity to chat with Phoenix about her latest career venture and how her and her mum have connected even deeper by helping women and children who have gone through abuse.
It feels like you're in this era of learning who you are and how to tap into that in the most authentic way. What reminds you to do things for yourself and not necessarily what people expect?
Good question. I feel like the way I was brought up in the spotlight, you already have that weight like you need to be something or achieve something more than most people. You definitely have expectations set against you but I think that's also expected. I guess it's a good thing and a bad thing. I have really good family and friends around me who always tell me to stick to what I love.
Do you feel like you have a close support network around you to keep you grounded?

100%. I don't live with my family anymore but we're close. My boyfriend is very supportive of me and when I need that emotional support, it's great to have my mum a phone call away. Most of my family are in London, so that makes a difference than when I was in LA and in different time zones.
You're building a career as a DJ. Do you feel like that's a natural career move or did it surprise people, and yourself?
Probably not that surprising at all because music has been in my life. My dad's a dancer so it felt like going into music was almost inevitable. It started as a hobby, learning through social media and putting mixes together and then it turned into something I could do professionally and it's really cool.
If you were to show us your recently played playlist, what would we find?

I love pop rock and Yungblud, Machine Gun Kelly, Paramore. But then I also love The Killers. I feel like I've got a good plethora of music. But in my recently played, you'd probably see Miguel, Asake, Miley Cyrus, Kings of Leon. It's whatever I feel that day.
What's your favourite thing about London that you think people take for granted?
The people. Everyone's real and tells you how it is. Maybe that's just my family but I definitely feel that Londoner's aren't about the bs. There's a clear culture here as well like going to the pub and even when you're in a different area, it has it's own personality. I feel like I still have some exploring to do. It's not in London but a place I've heard that's lovely is Brighton. I'm looking forward to seeing more of the UK.
When it comes to your style, it feels as though it's something you wouldn't want to define but would you ever consider diving deeper into the fashion industry and creating something that reflects what you are / what you love?

Definitely. Fashion was my first passion in life.When it comes to creating something for fashion, I wanted to take a pause to really learn and create something based on who I am — in a way I'm still figuring that out. Growing up I was quite insecure so fashion made me feel good. For me, fashion is about how you want to present yourself to the world.
What would you say is the best way to tap into fashion, if you're trying to figure it out?
People think you need a lot of money for fashion but I don't think that's true. A lot of my closet is secondhand and there are so many great places to buy clothes in London. If you're starting out though, I would say create a mood board or see what people are wearing on the streets. It's about putting together pieces that you feel. It doesn't always have to be Gucci and Prada.
You and your mum have always been each other's biggest supporters and you recently mentioned you were really nervous about working with domestic violence charity, Women's Aid. Did your mum (who is also a patron for Women's Aid) give you any pointers into what the experience might feel like for you?

It definitely was a big deal because you're connecting with other people's lives. Both my mum and I decided to do this because of what we've been through and our experiences are different because of our ages. We respect the different perspectives we can offer help to people. It was a lot though. We sat down and had dinner and spoke about what we want to bring to the table, and still do. It feels so good to help women and children and working with Women's Aid is awesome. I've been with them for three years now and can't wait to do more work with them.
What can we expect from you in 2023?
Just keep up with me I guess. I'm on Instagram and I'm working on being more open but I also only want to post when I have stuff to share. But there's a lot going on from music, beauty fashion, modelling. There's some music I'm working on that I haven't shared yet so social media is the best place to stay tuned for that, too.