Nell Mescal
20th September 2023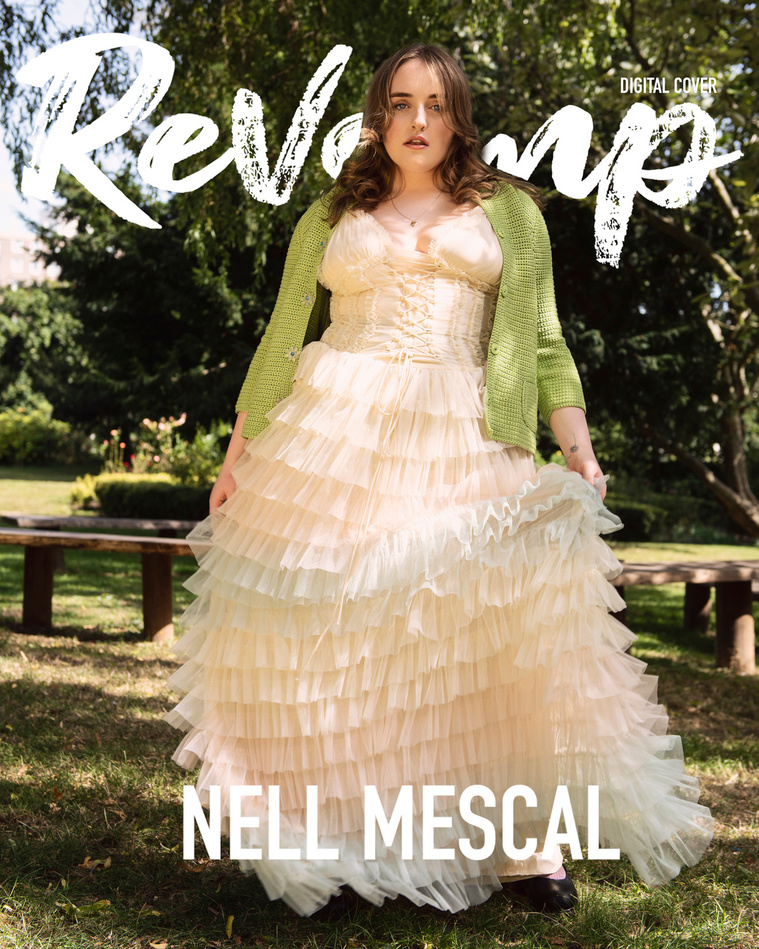 *Please note, this interview took place before the release of Nell's newest song "Teeth" which is now available to stream.
Dubbed one of the most 'relatable and relevant talents of 2023' by Rolling Stone, Irish music sensation Nell Mescal has catapulted to fame in just over a year.

After a summer of supporting the likes of P!NK, Dermott Kennedy and Florence and The Machine, Nell is now headed on her first headline UK tour and third Irish tour.

To me, Nell sounds like Kate Bush and Billie Eilish's lovechild, and has a unique sense of safety to her voice that seems to be unparalleled in the industry.

Having amassed over 33,000 monthly listeners on Spotify, it's clear that this Irish star sees no sign of slowing down her already rapid rise to success.

Dress, Amy London / Cardigan, Beyond Retro / Boots, Vagabond
F: Hi, Nell! How are you?
N: I'm good! Thank you for having me – how are you?

F: I'm very well! Thank you so much for taking the time to speak to me today – it's a real privilege to be able to speak to you. So, given your rapid rise to success, I feel like we should take it back to the beginning. I know you began singing in school, particularly in choirs when you were younger, but at what point did you realise you wanted your passion to become a career?

N: I think growing up I always thought that there was a place in music that I'd eventually have a job in, but you just don't know what that's going to be. I had back surgery when I was 15, and I had just spent so much time alone and I had been writing so much music that I kind of thought that there was no other option than to do something in music. I mean until you're actually in it it's hard to comprehend, and even now it doesn't feel real that I'm 'doing music' - it just feels so crazy to me! So, it was always something I wanted to do but it wasn't until I was 15 that I was like 'I have to make it my life's mission to do it properly'.

F: And am I right in thinking you dropped out of school in your final year?

N: Yes! In Ireland it's called a leaving cert, but it would've been my first year of A Levels.

F: Wow! That takes a lot of courage.

N: Yeah, it was quite wild really. I'm very lucky that I have the parents I do because they were just kind of like "ok, well let's hope it all goes well". Then shortly after that I moved to London, so they were some crazy few months for sure.
F: So, how did you feel when you took the leap of faith and reality set in?
N: It felt quite freeing – I loved being over for the first few months. It was quite a crazy time personally and mentally. I was just really trying to figure out what I was doing with my life. When you drop out of school and no one else is doing that it's a very isolating thing - especially since there is no one else to really talk to about it. It did take a while for me to find my footing but now I look back on that time and don't regret a thing! I'm very, very lucky I got to make that decision and it worked out.

F: And you mentioned your parents were really relaxed about it, have you still got a big support system around you? It sounds like you certainly did back then, but has that continued with your friends and family?

N: Yeah, it's so nice. I feel like I'm settled in London now. I've been here for just over two years now and slowly but surely you build a community around you, and everyone is just so supportive. My family has always been the most stable thing in my life with their love and support – I just feel very lucky and it's a very nice feeling.

F: I bet they're immensely proud of you right now. I think it's fair to say that you are one of the most talked about talents in Ireland currently and it's no wonder why. Rolling Stone said you are "set to become one of the most relevant and relatable voices of 2023" – which is pretty major – how have you dealt with such a sudden rise to fame? Especially considering your first single only came out last year.

N: I don't know really…I don't think too much about the fame to be honest. To me, it just feels like with every song there is more of a community building, or with every tour there's more people coming. It's important for me to build that connection with people. I suppose it's been such a crazy summer and I'm very fortunate to play the amount of shows I've been playing – and people turning up! People have been so lovely and so caring. It's been a strange year, but it has been really, really fun.
F: It looks so fun! Now, if you don't mind me giving my humble opinion, your voice sounds like if Kate Bush and Billie Eilish had a lovechild. I think there's something so safe and pure about your sound that's quite unique. Can I ask who you grew up listening to and who you draw inspiration from for your sound?
N: That's so nice! I grew up listening to country music and musical theatre – a bit of a weird mix. I listened to a lot of Mary Chapin Carpenter, then it was kind of folky with Simon and Garfunkel and James Taylor, and then loads of musical theatre – the 'Annie' soundtrack was the soundtrack of my childhood! Then I found Taylor Swift which was kind of theatrical but also folky and country, and I was like 'wow, that's it for me'. It was a mix of everything, so when I found Taylor Swift, I just thought 'oh my god, this is the coolest thing ever'. So, yes that was the music I was listening to – a lot of whatever my parents were listening to, really.
F: Ahh, so you're a Swiftie?
N: Oh, 1000% yes!
F: Will you be going to Eras?!
N: I am going Eras! I'm going to Eras at Wembley – I'm very excited.
Dress, Amy Lynn / Sleeves, Planet Soph / Shoes, Vagabond / Socks, Calzedonia
F: Amazing! It seems you have been just non-stop with live shows this summer, including Latitude and Kendall Calling, but you also recently supported P!NK, Florence and the Machine, and Dermott Kennedy. That is crazy. Can you put into words the experiences you've had touring with such big names and at such big venues?
N: I'd say just very overwhelming. It was also quite strange because it was all in the same two weeks. It began with a festival, and then just 2 weeks of touring with some of the coolest people ever. These are people that I really look up to – I've had a photo of Dermott Kennedy on my wall since I was 15!
F: Haha! Did you tell him?
N: Yes! That was just wild. I mean, Florence creates a space that is so comforting and safe, and her audience is exactly like that too. Looking out from the stage at people who are going three nights in a row and seeing them try to learn your words so they can sing along on the third night was so heart-warming. It was just so exciting and comfortable. Dermott Kennedy's crew and Florence and the Machine's crew were all so lovely and welcoming. It was the most fun two weeks of my life – I don't think I can add any more words than that it was just so cool.
F: It sounds it. What do you think young Nell would be saying now if you told her you'd supported those people?
N: "Shut up!" is what she'd be saying, like "stop talking you're lying". I think growing up I thought I'd be on a stage and getting to do that now is just so cool. I feel so grateful to do these things. I supported Birdy earlier this year, and that was someone that had a big impact on me and is one of the main reasons I started writing music in the first place. It has all felt very full circle for the younger version of myself – whether that was 10-year-old me listening to Birdy or 15-year-old Nell who loved Dermott Kennedy. I'm very grateful I get to do things like that for my younger self, but I think she'd just be freaking out!
F: And where you perform to such big crows – which I assume are only getting bigger and bigger – does it get any easier or is it just as nerve-wracking every time?
N: It's strange because I do get nervous but, nowadays, I feel more nervous for smaller stages. It doesn't feel real playing places like Musgrave Park, so you almost have to pretend that it's fake and none of the people are looking at you. It's just a different type of rush and it's so fun. I don't think I get as nervous as I used to, but before my first headline Dublin show I was crying with nerves! I was like, 'no, I can't go out there', but a year later I'm doing Malahide Castle and I'm thinking 'wow, I can't wait to get out there'. I think it just depends on the day too.
Skirt, Planet Soph / Top, Neon Rose / Boots, Vagabond
F: I suppose there's something intimate about small venues isn't there? Which does lead me on to say that I saw your recent Tik Tok asking people to give reasons why others should buy tickets to your tour – I think that's genius! What prompted you to go about it that way rather than a conventional advert for tickets?
N: I think it's so hard nowadays to get people to come to shows and especially as I don't have a huge catalogue online. There are five songs which are Nell Mescal songs and that's it – that's all you have to gauge -- but I have a show that's twelve songs. It's difficult to get people to come. For me personally, I go to shows that my friends suggest and say, 'oh my gosh, you have to see this person live'. Perhaps I was asking people to do the work for me! Although, it was a Tik Tok where people are just telling me I'm lovely, so I just thought 'is this really embarrassing to post?!'. A lot of the comments said that the community and space created at my shows are both really nice -- which is honestly the biggest compliment you can get – saying my shows create an environment where people make friends or feel comfortable going on their own. It was just so nice.
F: I thought it was genius. I think it was a perfectly humble way of going about it. Do you and your band have any pre-show rituals? Or do you have something you have to do?
N: Yes. I used to get really embarrassed about doing vocal warmups for some reason. I grew up doing intense vocal warmups in singing lessons, but I felt uncomfortable doing them in front of a group of people, so they've started doing them with me! We now do a group warmup which is nice. Also, when we're side stage, we all have a group hug and say one thing that we're grateful for, then the last thing we say is that 'we're grateful to be alive' before we go on stage.
F: I love that. Now, I'm guessing you must have some pretty amazing stories for all the shows and touring you've been doing. Can you share any with us or your favourite if you could pick one?
N: I guess meeting Florence was pretty crazy – it was just insane. When I meet someone that iconic, someone I really resonate with and grew up being obsessed with, I think they just have a light shining from their face. It's like they're other worldly, so that was wild. She was also just so sweet and so kind with her time. To be honest, none of my stories are too crazy they're just wholesome. People have made me bracelets and written me letters – a lot of the time people also Facetime their friends to watch the show. I've just had lovely experiences. I know I keep saying it, but I just feel very, very, very lucky. I've had such an amazing year filled with lots of new faces who are just as lovely as the last person and the next person.
F: I mean what more can you ask for?! It doesn't stop there either because you're headed on your first headline UK tour and your third headline Irish tour. How are you feeling about the tour? Can fans expect anything new or any surprises?
N: I'm so excited! I was a little stressed when the talk of tour started appearing in group chats and calls – I kept saying 'I'm not ready yet' – but now, it just can't come quick enough. We've definitely had to buckle up - it's a whole new show now. There's been a lot of rehearsals and a lot of new songs, as well as lots of talk about outfits and set design. Usually, I know exactly what outfits I want to wear, but I've never done anything with set before – I don't think I knew what I wanted before. My first two tours have been Irish tours and I really didn't know what touring meant; I didn't know what putting on a show meant. Those shows were incredible, but I was just learning so much. Now, I feel like I have a much better grasp on things, and I feel really excited to show Ireland a different level. I'm just so excited to play shows…and I hope people come!
F: They absolutely will come! I think it's going to be amazing. Just to follow on from outfits, your Lake District outfit at Kendal Calling was iconic. I love that corset so much.
N: Haha, it is really cool!
F: But you also have a new single coming out called "Teeth" which I've had the pleasure of listening to already. Nell, I'm not just paying you lip service when I say I've had it on repeat on my lunch break since hearing it! Can you walk us through the journey of the song – what was the inspiration and how did that transpire into the final product?
N: Yeah, so when I was writing it, I think I was in a place where I was thinking about how we, as people, let ourselves go through shit that doesn't need to be happening. We just let things pile up until we've had enough. I mean the first verse is kind of brutal, I'm at breaking point in it and I'm talking about how I'd bury a body just for a moment of quiet – which is crazy. So, I kind of wanted to go from there to a point where I am ready to call it all off and break free from that feeling and take the power back. That is certainly something I'm still trying to teach myself - to not let myself get to a breaking point and address issues straight away. I kind of wanted the song to be a reminder of knowing you can conquer something – I wrote it with my friend, Scott. I love the song a lot and I'm really happy it's going to be coming out.
F: What three words would you use to describe "Teeth"?
N: Ooo, I'd say honest, boppy, and cathartic. It was a cathartic song for me to write, so I'd say those three.
F: Ah, they're good ones. Other than the tour, is there anything else your fans can expect? Any projects or new music?
N: Just lots of new music. I feel in a very creative space, and I definitely think there will be another song out this year after "Teeth". I'm really excited for the shows and to play it live for people, but after my Irish tour I will be going to sleep! I will be sleeping for three weeks.
F: That will be very well-deserved! Well, it all sounds so exciting, and I personally can't wait to see it come to life – I know people reading this will feel the same. I have just one more question for you and I like to round off all my interviews with this question: what would your Mastermind specialist subject be?
N: So, something I just know a ridiculous amount about?
F: Yes, something I could quiz you on right now and you wouldn't need revision. It can be as niche as you'd like – to give you an idea mine would be Gavin and Stacey.
N: Easy: Gilmore Girls.
F: That's a good one – a classic.
N: It's defrosting – I'm getting ready to watch it!
F: I'm quite ashamed to say I've never watched it…
*Pauses in shock*
N: I don't feel well…I'm being serious you must watch it this Autumn!
F: Ok, in return for your time today I'll watch Gilmore Girls.
N: Phew – thank you.
F: Nell, I can't thank you enough for speaking to me. It has been such a privilege and I can't wait for the tour – I will definitely be there. I think you deserve all the success that is coming your way and more.
N: Of course! Any time. Thank you so much, I really appreciate it.