Morgan Munroe
16th October 2023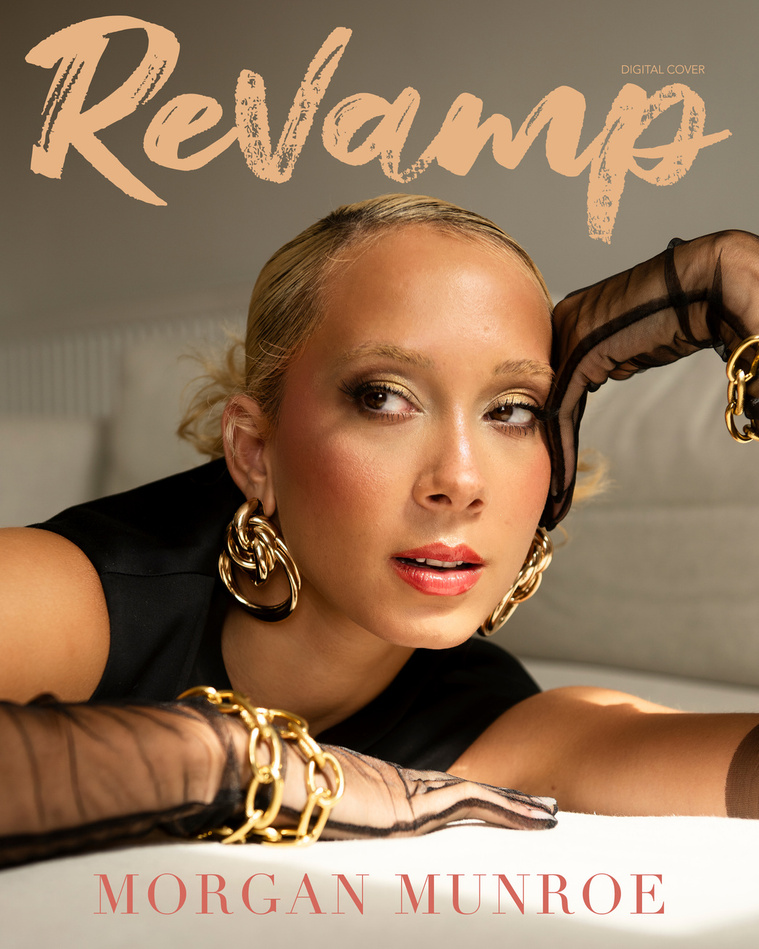 Photographer & Editor-in-chief: Owen James Vincent
Styling & Creative Direction: Rasa Balciunaite
Make Up & Hair: Leah Johnson
Interview: Savannah Small-Swaby
Cover Design: Emily Curtis
A singer who has already collaborated with artists such as Joss Stone and OMAR, along with an award-winning album under her belt, Leicester's own Morgan Munroe's career is on the up and there's a lot more this singer has to offer. When speaking with Morgan, it's clear that everyone around her, including her hometown, has helped shaped the artist into being as she describes a 'blunt lyricist'. Her personality however, is anything but that. It's warm, welcoming and open to honesty. Take a read of our interview below.
You worked with producer Indigo Kxd for your On My Mind EP. What is it about his style that you're drawn to?

I've always loved his style. We're both from Leicester and he's been a really good friend of mine for the last 15 years. We did a song a few years ago and it was a little bit more on the pop side of what I usually do — I've always leaned more to the alternative R&B side. But he's an amazing pop writer and producer. He has it down, so when I listened to the song we did a few years ago I loved it.
He pitched it to BMG as he was part of their Artist Series (where BMG would pick artists to do a 5 song EP ) and that's how On My Mind came about.
Why was it important for such a personal EP?
It's very personal to me because all of my music is personal to me. Being with Indigo Kxd for that week where we wrote everything was very nostalgic to how we used to work — baring my soul and writing the song based on what we talked about.
Dress: APUJAN / Jewellery: Hey Harper
A lot of artists say music is like therapy. Do you ever go back to your songs and reflect on how you were feeling?
100%. Even though the songs are about hardships of love, I still try to make them positive.
It's definitely more emotional for me when I'm writing the songs than listening back but the other day I felt in my feelings and I listened to my old music. I created it as a source to empower people and I thought, 'why don't I do this for myself'. It really made me smile. There's so much growth that has come from it.
What does your songwriting process look like and how has it evolved since you started as a teenager?

The main way I like to write today is by writing off of the beat producers I work with send me. I put the beat in Logic Pro and then just start writing. Sometimes I go into the booth and create melodies, which is a new process. Before I was doing the melody and the lyrics at the same time. I think the new process is quicker. It's a lot more freeing.
Top + hood: Mia Grace Cooper / Skirt: Horde Studio

Other than writing, what's a Morgan Munroe way of dealing with heartbreak?

I'm not someone who likes to sit and cry about things. I probably just throw myself into work and the whole self-love journey. I like to reconnect with my friends, family, taking my mind off of things. Keep it moving.
Are there any songwriters you feel like you've learnt from?
I have influences such as James Blake and Frank Ocean, but I don't think I write like them. They're mysterious with simple melodies and minimal lyrics. I'm quite a blunt lyricist.
If you could collaborate with anyone in the music industry who would it be?
Frank Ocean. He's been my favourite guy since I started music. He plays on my heartstrings and touches my soul every time. He's an artist where you can take his words and allow them to be what you want and have your own meaning. His production style is beautiful and unique. You just can't replicate it.
Corset top: Mia Grace Cooper
What's been a big 'pinch-me' moment that you've had this year?
Winning Project of the Year for my album Elvira at the the State of RnB Awards. It was crazy to win against so many people. If I was an emotional person, I would've shed a tear [laughs]. Girls with Joss Stone and OMAR was also a pinch-me moment, especially because it was something we started in lockdown. It was originally a song I did some revocals. Some time passed and I kind of forgot about it actually. And then I got a message telling me the label loved it, it's getting released and it's going to feature Joss Stone. The little teenager in me was dying.
Did that process of recording the song, moving away from it and then months later finding out that it's getting released feel like you were having that music industry experience of slower projects so many artists speak about?
Yeah it validated that sometimes songs take time. We're in such a period of fast music, fast fashion, fast everything, which puts a lot more pressure on being consistent. The fact I did Girls and then it later got released with the feature of two legends was like , 'yeah this is okay'. I didn't feel bad for not putting things out straight away.
You've recently been on tour. What's one thing that surprised you about touring that you never really hear other artists talk about?
I know people have said this but I did expect touring to be slightly more glamorous than it was [laughs]. It's a lot of sleeping and getting reading in the tour van. It's so exhausting as well. I will say that even though we had a tour van, there was around 6 or 7 of us and it was still pretty comfortable.
Which new artists right now are you excited to see take up space in the music scene?
Shaé Universe. She's such an amazing artist and a beautiful person. It's amazing to see all her hard work paying off. It's motivating for me as well.
Sunglasses: Jeepers Peepers / Earrings: Assuwa / Coat: Weekday
As someone who loves movies such as Scarface and has found synergies in romance scenes in your own love life, what movie do you think has the best soundtrack?
Great question but hard to think of the best one. I do love the soundtrack to Kill Bill Vol. 1 though, especially 'Bang Bang (My Baby Shot Me Down)' by Nancy Sinatra.
Can you tell us what's next for Morgan Munroe and what you've been working on?
I have a new 4-track project coming out in January. It's patriarchal as it was made from all Leicester people and it has a short movie with it. I also have a bunch of cool singles coming out as well, which I can't wait for everyone to hear.