Logan Brown
20th November 2023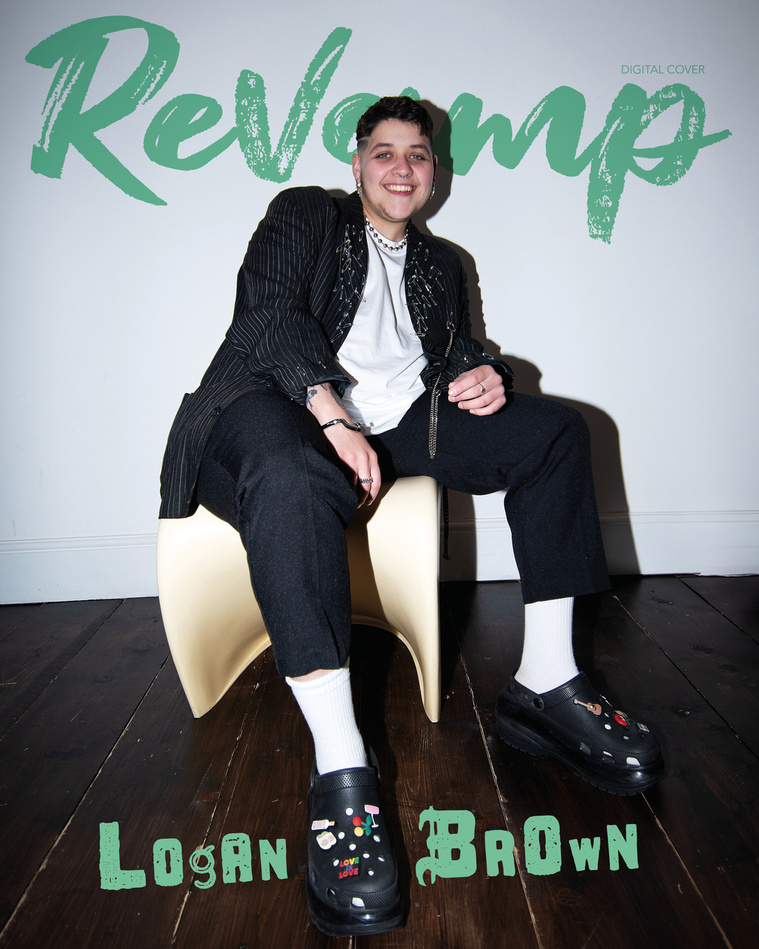 This weeks cover star goes to Logan Brown who is known for being a trans activist, partner to the hilarious drag queen, Bailey J Mills and author to the book 'In My Daddy's Belly'.
Brown talks about growing up, being a Dad and we chat about being on the cover of Glamour magazine.
Logan! I am so honoured to have you as our ReVamp cover star! Firstly, how have you been since you've been on the cover of GLAMOUR?
Thank you! I've been excellent, I strangely realized while doing the Glamour cover and going forward, how much confidence I had! Glamour fully embraced me and my body on the days of the shoot, they took time to understand our story and ever since then, it's encouraged me to be even more proud of being a Trans dad. Life has changed a little bit and all of a sudden other people in the community have expressed that they feel empowered by our story which is lovely some people feel like they can now have opinions on everything we do on social media which is hard to get used to! I've had some amazing opportunities from doing the Glamour Pride cover though, I've been involved in a few campaigns, and events and have been working with companies such as Tommee Tippee & iCandy, it's nice of them to want to include queer families and show that all families look different. I've also been dipping my feet into a few more photo shoots now, which is cool!
What was growing up like?
Growing up was mixed emotions, I have an amazing, supportive family who has made me into the person I am today, but I always felt like something was different about me and I could never quite put my finger on it. I used to mess about in school all the time, in and out of counseling for my mental health and I lost a lot of close family members around me. I didn't have and still haven't got a good relationship with my dad and I could never understand growing up why someone who is supposed to love and cherish me, just chose not to. I was always scared of turning out like him (But I haven't, I adore my daughter!) Before I transitioned, I came out as lesbian when I was 13/14, I thought that's what I must have been but as I grew older I realized it was who I was inside, did not match how I appeared on the outside. Also, I just grew to understand that I could love anybody regardless of gender. I was chaos growing up, with different hairstyles all the time and wearing whatever I wanted! [laughs]
What's in the day of the life of Logan Brown now?
Oh, how my days have changed! (For the better of course). I start my day by waking up early in the morning to do the first feed of the day for Nova, I'll probably try my best to organize her bag for the day, cleaning, and sorting clothes out. Then we usually go to the park with Nova, I can't stay in the house all day, I think it's really important for us all to get fresh air and even if it is doing a food shop, it breaks up the day when you have a baby.
Bailey and I either take Nova to baby club where we sing fabulous songs and have some sensory fun, or take her to her swimming lesson. I'd say we're definitely in a routine, which I and Bailey both need with us both being Neurodivergent. We will usually see family, go on adventures, and just try to continue as normal but just adapt Nova into our lives. Oh, and the day always ends with bath time and lots of cuddles before bed! Somewhere between all of that, I try my best to reply to emails and plan upcoming projects.
The most important topic we need to talk about is in the Queer community there can be a lot of judgement of couples having babies or starting a family. What are your thoughts on this? How can we change this?
Yeah, I think especially in the gay community it's almost as if it's something we just don't talk about or people find it of putting. I often hear things like 'Oh god no I couldn't have kids, keep them away from me'. I'm not going to lie, I could almost say I would agree with their comments at one point in my life as I never planned on having kids. In the queer community sometimes it can be all party, Grindr, and just not having the 'traditional things' that straight people have. Maybe that's what it is, maybe as queer people, we fear being like something we've had to grow up with before coming out if that makes sense? I want people to know that queer families do exist and you can still be your authentic self with a loving family, I've never felt love like this and I can't wait or others to feel the same. I mean I'm the definition of looking after our daughter all day and then one minute I'm watching my partner perform at a drag show! It's the best of both worlds! We change this by starting to be more open-minded as a community!
How has it been being a trans Daddy?
She is literally the most perfect human ever! She brought out a side of us that we never knew we could even reach. She has taught me patience, shes taught me that it's the little things in life that really matter and family is a huge part of that. I was so scared of going to baby groups and not being accepted by other parents, but we have had nothing but support and love. I will be honest, becoming a first time parent who has ADHD is extremely hard, I think parenthood is one of the hardest and the most rewarding job ever, because believe me... it's like a full time job! But everything we do, all these memories were creating, the thing that keeps me going is that someone else's childhood is in my hands... thats deep and I want her to feel safe and secure and she will know that she can be whoever she wants and love who ever she wants!
You've also got a book out called 'In My Daddy's Belly'. What can you tell us about this book?
Yes! I'm so pleased with how it's turned out and to make something so close to home, so personal and relatable for maybe other Trans Dads is a win-win situation. The book is published by Bigger Picture Books, we wanted to create a children's book that is also informative to adults. The book is interactive and showcases how families come in all shapes and sizes and as long as there is love, that's all that matters! We've had some amazing reviews from the book already! It's nice to know that queer people and people that are not in that community are also willing to learn and understand too, I think that's special. With this book, I wanted to be straight to the point 'In My Daddy's Belly' because we do exist and I'd like my daughter to have something relatable for her to learn where she came from and to feel proud of that.
Now we have to ask you about being the boyfriend of the talented, Bailey J Mills (who has been our cover star). Bailey has made the nation laugh with their videos and performances. What goes through your mind when you see Bailey walking around with fake teeth and thirsty wigs? Haha!!
Haha! Thirsty wigs, I love that description! I get asked this a lot, people ADORE Bailey and can't imagine what it's like to live with them. I can inform you that it is very eventful, Bailey makes me HOWL, but also probably for different reasons than everyone else haha! It's very normalized in our house to see Bailey becoming different characters and fully being in that character, sometimes I will be sat there and they will just walk in casually as if it's normal, but it is normal in our house. I spend my time putting away wigs and finding fake teeth in the dryer. They are an absolute bundle of joy, but I do just want to confirm that Bailey is a real human being and enjoys spending most of their time being relaxed and having meaningful conversations, they are not level 10 all the time! I adore them and admire them for being a parent to our daughter but then also attending a late-night gig! Baileys is an icon, hands down.
Lastly, if you had the opportunity to ReVamp anything. What would it be and why?
If I was to revamp anything it would be the government and society! It saddens me to see the struggles that trans and nonbinary face and baffles me why we are a constant target. People need to get with the flow, trans people just want to be accepted, they don't want to brainwash your children, and they don't want to be spying on people in the bathroom... these are small-minded assumptions and they need to change! The younger generation is our heroes! They will revamp the system and fight for what's right, I know it.
Grab your copy of 'In My Daddy's Belly' by Logan Brown here.