Karolina Conchet
29th May 2023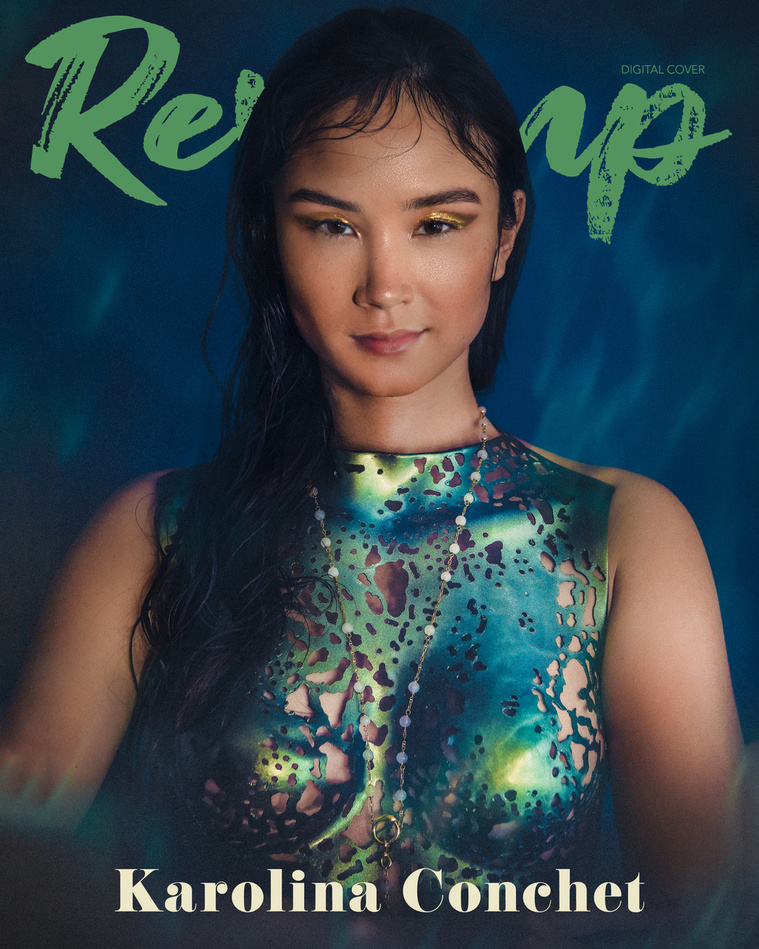 Karolina Conchet is a woman of many talents. From acting to modelling to painting, Karolina is already making a splash across multiple industries - quite literally.
Poised to make her big screen debut in one of the most highly anticipated movies of the year, Disney's live-action adaptation of 'The Little Mermaid', we will see Karolina take on one of the most challenging roles of her career to date, as Princess Mala, one of the seven daughters of King Triton and sister to Ariel.
We recently had a conversation with Karolina, who features as our cover star, about her experience working on 'The Little Mermaid', her role as Princess Mala and the importance of diversity and representation in the entertainment industry.
Bustier, Cameron Hancock / Skirt and socks, C Ritter / Necklace, Capsule Eleven / Shoes, Daniela Uribe
You're playing the role of Princess Mala (one of Ariel's sisters) in the new live-action, The Little Mermaid. So you're a Disney mermaid princess which is the stuff of childhood dreams for many! What was it like to get that role and to be part of a live-action re-imagine of a Disney classic?
Getting the role was surreal, like the whole experience. I've been pursuing acting for quite a few years by the point I got the audition for The Little Mermaid. I did this audition the best I could, I prepared as much as I could and then you just hope for the best. In a way you try to forget about it, like if I hear about it, it's great, but if I don't then you move on to the next. That's how it works and that's how you stay sane in this industry. There were two other auditions I had after the first audition, the first was a normal audition where I had a scene to prepare, I did it, and the team there was amazing because they gave me such great energy.

Then I had a physical test too because we had to do our own stunts, so we had to see if we had physical ability to do certain things. After it was the call back with the director and producer, I learned about getting the role from my agent, they sent me a voice note on WhatsApp because I was abroad and I was in Laos where my father is from. It was the first time I was there, I went there for a retreat and then did a little bit of exploring of the country and so it felt symbolic for me to get the news there.

It's a long answer but it's important to add this in because many people haven't heard of Laos and for me to be able to showcase a little bit of my background through that is important and how I learned about getting the role there was amazing. I just remember looking at the river there and I've got the mermaid role. It was just so surreal!

So it was almost a full circle moment…

Yes exactly!
Pink dress, RaeVynn at MyWardrobeHQ / Tights, Calzedonia / Shoes, Steve Madden
That's so lovely! While Ariel's sisters were in the original film, the characters have been adapted for the live-action film with new names and each sister having a different ethnicity and also each being the ruler of the Seven Seas. So what was it like to play the role of Princess Mala and bring this character to life in this new way?
It was really meaningful for me more than I thought it would be. The Little Mermaid was and is my favorite Disney movie and I never imagined one day that I would be a mermaid. The mermaids from the animation didn't look like any of us that are in the live-action. I use to look at them and think they were so beautiful, it would be cool to be a mermaid but I couldn't be one of them.

For me, playing Princess Mala and bringing her to life, had freedom in a way that in the animation the sisters weren't that developed with personalities and what they were doing.

So for the live-action we could imagine a lot and have freedom, it's little scenes that we are in but you can still see a bit of our personality which was very playful for me to try to extract who Mala is and what kind of sister she is and of course I tried to infuse it with how I would be, what my protective side is and how I would lead a sea.
You've also got your own doll and all of the merchandise! And I know that would mean so much to many fans where you said seeing yourself on screen and having an East Asian background…
So, I am mixed! I'm Polish so I have a European side, my Dad is from Laos and I grew up in France. In the acting world, it's really hard to put me in a box, so a mermaid is perfect because you don't know where mermaids are from. They're fictional characters so they can be influenced by the currents or the environment so there are so many things that can come into place and that's a bit on how I feel. I'm not pinned to one country. [laughs]
I relate to that! Cause I know the representation means a lot to so many people. I saw a post on Instagram the other day where someone said that you were already their favorite because they felt represented by you.
That's amazing! I never thought I would be in this position to inspire people because of my background, in a good way. I use to think it would be hard because of my background and how it started in a way with acting at the beginning. So, this is beautiful!
Each mermaid in the film has there own unique look and sign. I know your character has the pink and kind of orangey tones going on. What was the costume process like? And how did you feel when you first saw the design for your character?
The process was really interesting, and the team that came up with it was amazing. Coleen Atwood's team was so creative and she's done incredible things. I went for a few measurements and fittings and by then I didn't see any designs. Then I went into the room where it had all the illustrations of all the sisters with how they would look with the costumes and with a lot of sea elements like when you go to exhibitions and see little objects.

My costume was inspired by the Royal Gramma which is the name of the fish, it has purplish, pink, and yellow colors which they got inspired by. Then we started doing makeup tests with Peter King, and then we tried on the different hair we could have to see which one would fit our character. It helped to have an image of how Mala would look which helped me get even more in character. She felt royal quite quickly for me and it helped with the little tiara.
You also got to work alongside some powerhouse and creative actors in this film so including the likes of Halle Bailey, Javier Bardem, and Melissa McCarthy just to name a few. What was it like to work with the rest of the cast and what was your experience filming scenes?
I only had scenes with Halle, my other sisters, and Javier Bardem. One day I got to meet Melissa with the whole team because it was really rare that everyone had scenes together at the same time but we got to meet briefly. Meeting the whole team and being in that group was crazy I remember thinking "What Is Going On?" I was grateful and I had sparkles in my eyes when I met everyone.

To do the scenes with someone like Halle she embodied so much of that character. I know it's a lot of work but she seemed so seamless and that she was Ariel, there was no effort needed to just be her. It made the experience for us actors easier we were responding to her, she's my sister and that's all I was seeing. It's incredible just to have someone so talented and hardworking to be so humble and kind at the same time, you are honored on an acting level but also on a human level.

It's the same with Javier! Where we had this beautiful scene that I hope a lot of people would like where it's us and Javier, he just has this presence, this charisma and he is the character and at the same time, he's so humble and open to get feedback to re do his scene and for you, as an actor, it's so easy for you to respond and not think where am I? Who am I talking to? It's like no… he is our father here, I can see it. You can still stay humble and kind no matter what profession you have and that's inspiring.
Orange dress, Paula Knorr / Sequin dress, Joanna Andraos at MyWardrobeHQ / Necklace, Samantha Siu / Shoes, Steve Madden
Recently you got to attend the premiere of the film here in London and see the finished product alongside the rest of the cast and crew. So, what was that blue carpet experience like for you?
Again, it was so surreal! The whole experience was really busy, with a lot of media, a lot of clapping, and everyone screaming. It was just incredible walking that blue carpet and trying to soak it in and thinking it's a once in a lifetime opportunity, so I tried to enjoy it. I thought I would be nervous because I've had a premiere but not this size. I was so happy to see my sisters as well, as the rest of the team, and got to catch up with everyone. I brought my best friends from Paris, and my partner, so it felt like being surrounded by my real family for me and also having my family from the movie. Watching the movie gave me chills, I laughed, I cried, and my heart was beating fast during it but in a good way. I'm really happy with the movie and what people will get to see. I think it's incredible!
On a bit of a different subject, the topic of diverse representation was widely discussed in relation to casting for this film and the conversation around representation and showcasing talent from a diverse range of backgrounds is an ongoing one for the entertainment industry at large. Do you feel like the narrative is changing and opportunities are becoming more equally available for talent across all backgrounds?
I feel like I've been saying this for a few years. It's starting to change but I've been saying that for three or four years now, it takes a while to change. When you see a little bit of change you think is it enough? It's that really fine line of thinking do they take me as an actor or do they take me for my background? The Little Mermaid for example I knew they wanted that story to represent the seven seas but I felt valued as an actress. I am just hoping it would change faster and wider. I still get auditions that still cast me in roles that I don't want to do because they are only casting me in this because I'm Asian and there is nothing else to me than that. At the same time, I have got a lot of auditions for example we're looking for a young woman that can play this role and it's more about the story and it's not about the background. It's finding a line between honoring a background in some roles but also looking at us as people that don't need to explain their background all the time.
Sequin Dress, Angelika Jozefczyk at Wolf & Badger / Blue dress, Karina Bond / Shoes, Steve Madden / Earrings, Lily and Roo
As well as working as an actor you have a career in modelling. How do you find the process of modeling? And are there any similarities in the modeling and acting process?
The biggest similarity with modelling is that it got me use to sets, having a camera in my face, and having a lot of people looking at me on set. On the other hand, the process can be different where I'm grateful for modeling because I can pursue acting while doing modeling.

Acting made me grow a lot as a person, so I still had the camera in front of me but I had to get myself out of my comfort zone. It made me grow, it made me stronger and it taught me a lot about my life and relationships.
For me, modeling is like I was a shell but with acting I had to fill it up with my personality and experiences and that living being from that shell could come out. So, that's how I would explain the difference, I'm not saying one is better than the other, I'm saying it brings out different parts of you. I just feel more empowered when I do acting alongside modeling.
To add to your already extensive resume of creative endeavours…You're also a very talented artist and painter! I've seen your amazing artwork on Instagram. How would you explain your art style and what inspired you to get creative?
It makes me happy that you asked me about this because it has always been a hobby of mine and some type of escapism since I was a kid. I only started last year posting as I love to watch people paint on Instagram. My type of art is more surrealism, bringing elements of real life but then adding something that doesn't really make sense or is a bit out there. Mixing elements that don't go together, I get inspired by nature or colors, and the series you probably saw was inspired by people that I have around me, or I have met, or that I'm still close to or not.
I see their aura and each person's inner world after having spent time with them, they would reveal themselves to me and I would see their demons, dreams, experiences, and hopes and I like to translate all of that in art. The message of this whole series is that we all have those inner demons but they are our richness and our treasures and we shouldn't just have positive traits because the darker things paint other elements. The meaning behind this is that you are not them, you are experiencing them, so look into it and see your uniqueness and the uniqueness of your experiences, they are a strength.
Gold dress, Narces at Wolf & Badger / Shell Necklace, Tabitha Charlton / Long necklace, Alexandra Hakim / Shoes, Daniela Uribe
So now that The Little Mermaid is finally out! What is next for you as a project? Are there any kind of dream projects that you like to work on next?
I have a few projects coming up that I can't discuss yet but it's very exciting. I would love to play on this magical, fantasy feeling that I quite like, maybe play a fairy or a witch. I also love stories that have strong relationships that look deep into human relationships for example the way This Is Us portrays it, I love this series. Playing in The Little Mermaid has also taught me that I love doing stunts as well. For my art, maybe finishing that series and organizing an exhibition and seeing what I can do with it.
The Little Mermaid is now out in cinemas!