Jess Darrow
24th July 2023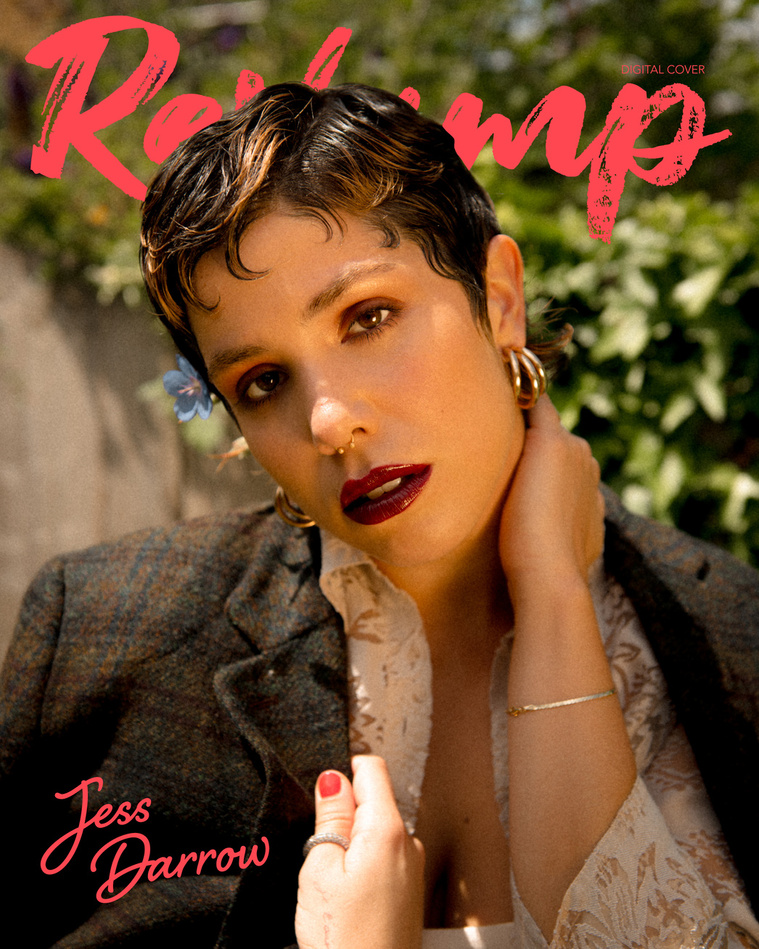 ReVamp: The Inner Screen's lead writer, Shane Ramdhany, interviews Jess Darrow, who stars as Luisa on the hit Disney film "Encanto." She is starring in the upcoming show, "Fifteen Love." In our interview, she discusses her experience working on "Encanto," as well as provides us a lens into her vision of acting within the industry.
What was your experience like playing Luisa on "Encanto?"
It was a dream. Seriously a dream come true and something never anticipated. I never imagined I would be a Disney character and it also felt very remarkable in terms of how special it was because we were doing it during the pandemic and so we were recording it remotely and a lot of time was spent paying attention to every single detail. I really felt the time that Disney spent trying to make this into such an awesome film, it felt like a very thoughtful dream-like process.
Glasses - Robert La Roche
What was the biggest challenge for you working on this film?
The biggest challenge for me was to ground myself. None of it felt real, like I said it all felt like a dream and the most difficult challenge was to not fan girl too hard on Lin-Manuell Miranda! Recording 'Surface Pressure' was something that also felt surreal but I had to really ground myself in the stakes of the song because it is so emotional and trying to find a way to challenge my energy and all of the anxiety that I was not only feeling about performing in a Disney film but wanting to do it justice. I wanted to surpass expectations and I wanted to make the team proud but you know you can't like work off at that. I think grounding myself was the biggest challenge but I've been able to do that through the help of the incredible directors and team and Lin himself which was amazing, he told me to focus on the acting of the song and he was like don't worry about sounding pretty because that was the biggest challenge for me was sounding vocally correct. He was like you know you can sing and you can hit all of these notes, don't be afraid to really act out.
Top, Uniqlo / Shirt, Beyond Retro / Trousers, The Ragged Priest / Blazer, Ralph Lauren @ Beyond Retro / Boots, Steve Madden / Earrings, Missoma
"We Don't Talk About Bruno," surpassed Frozen's, "Let it Go" topping the charts for several weeks. What are your thoughts on this becoming such a hit?
I mean it is a hit! I remember hearing the song for the first time I was freaking out! I don't even sing in "We Don't Talk About Bruno". I'm just like this is a song that is part of my movie and it's my favourite song in the movie. Also, anytime you see Latinos hitting the top charts is the best feeling ever. It also feels like my family winning, so it's the best feeling ever.
But 'Surface Pressure' did very well on TikTok and everything…
It was incredible to see animated choreography going on in my voice. I also got the urge to learn the choreography myself but sometimes things are meant to be left for animated characters because that shit is hard. It is crazy choreography that Jamal Sims and Kai Martinez choreographed for an animated film which was so cool. Surface Pressure being a song that became so popular was such a rollercoaster because I was like why? Me? How? But also you know to tie it into the ground and knowing that this song is extremely relatable it does make sense that it became popular. To be honest I didn't think it would be as popular as it was because I thought it would be too emotional, people can find it hard to listen to things that feel too close to home, but with the genius musicians and Lin-Manuel's writing, it gives the song the perfect mixture of an incredible beat and emotion.
Who is your role model?
All the women in my life who are my teachers, I have a lot of female teachers and leaders that raised me as a kid, which I've been incredibly lucky to have. They were very nurturing and they let me be whoever I wanted to be. They showed me the world of improve, so I'm talking about my theatre teachers and directors that I had the pleasure of working with and the community theatre that I did. My teachers and directors who worked at the community theatre called 'Miami Children's Theatre' do God's work and they created this place for children to be safe and be themselves. Especially in Florida, it's not a safe space to be yourself as long as these havens get to exist. The two directors who own the theatre are Tim and Beth Fath and they built all the sets, do the costumes, and they are the artistic directors and they take in every child as their own and I haven't met anyone as gracious as they are.
I also have celebrity role models like Issa Rae who is playing President Barbie in the live action Barbie movie. She's got a whole TV show called Insecure that started out as a web series and she used her Capricorn traits like I also have it's also the reason why I love her because I love Capricorn and she used her entrepreneur skills to bring it forth and signed a deal with HBO and I'm just so inspired by her journey and now she has her own production company and her own record label and that's just something that I want to do, I want to be able to help creative jobs for all of my artistic friends and create an incredible community of role models that are friends and artists, and just unapologetically themselves.
What is your idea of the perfect role?
There's a musical called 'Drowsy Chaperone' and I played the Drowsy Chaperone in that musical that's probably my favourite part I've ever played and it felt amazing to me because I was sixteen years old and the characters were drunk the entire time, so if I made a mistake or messed up a word or cracked in the middle of my song, it was ok because she was meant to be drowsy and it's also just the funniest role and has the best songs in it as well. That is the perfect role I've ever played!
But a perfect role for me would be to play a loveable villain and I can't say it's perfect. But for me, it's perfectly imperfect like a bad guy who you are forced to see the humanity in and someone like me who you know is a big cry-baby and if you see me play that role I think that's a gesture position.
Dress, Beyond Retro / Coat, Julia Allert @ Wolf and Badger / Boots, Dr.Martens / Earrings, Monica Vinader / Jewellery, Jessica's own
How do you like to spend your time when you aren't acting?
I love going to see the theatre! Theatre is my life and it's always been for me. Going to see Broadway whenever I can is the most amazing treat and living in New York is a dream. Especially during the pandemic, I was like I may not be able to do that again and now I'm on overdrive and compensating for seeing too many plays and musicals. I also love cooking and hanging out with my friends and having dinner parties is the best!
Can you tell us anything about your upcoming series, "Fifteen-Love?"
Yes, I can! It's a drama! It's a sports drama. I have to say if you're not into sports I still say it's super worth it. I'm not into sports myself but it's dramatic as hell and I have to say be prepared for the drama. Also, I really want people to take away from the series, just personal reflection and think about how they judge certain scenarios and question their listening skills and also pay close attention and not be afraid to open their eyes and ears. It's a show that defiantly happens too often and is too common a story that sometimes people are afraid to talk about.
Dress, All Saints / Jacket, Beyond Retro / Boots, Steve Madden / Necklace, Jessica's own
Can you tell us much about your character?
I can't give too much away but what I can say is that I do play a queer character and that is something I can tell you for sure. Going back to play the perfect role I felt like this was perfect for me because it's defiantly a version of myself and it's a role that I can relate to in my life. It was challenging for me if I was doing enough. I would ask my director and she said you being you is perfect because you guys share the same energy and similarities which makes me feel really proud because I am obsessed with my character and I think that she's a fighter and also ride hard for all of her friends and her community that she really loves. What I also love about this show is that the show isn't about being queer, my character is just a queer person and doesn't have to ride it on her forehead and just be a human being that gets taken seriously.
Lastly, any messages you would like to share with us?
Now that Pride month has come to an end. All I've been thinking about is the queer legislation in my home country and how so many things are feeling that the odds are against us especially our fellow trans siblings. Our ancestors before us who have fought so hard to get to where we are now. It feels like we're regressing and everything is stacked against us and it feels like I just want to put out a message of hope to anyone that sees any of my work or hears my voice somewhere and it happens to inspire them it's ok to be yourself and it's the natural human way to fight for love and love will always win!
'Fifteen Love' is now streaming on Amazon Prime.
This conversation took place prior to writer's strike.