Jenny Walser
4th August 2023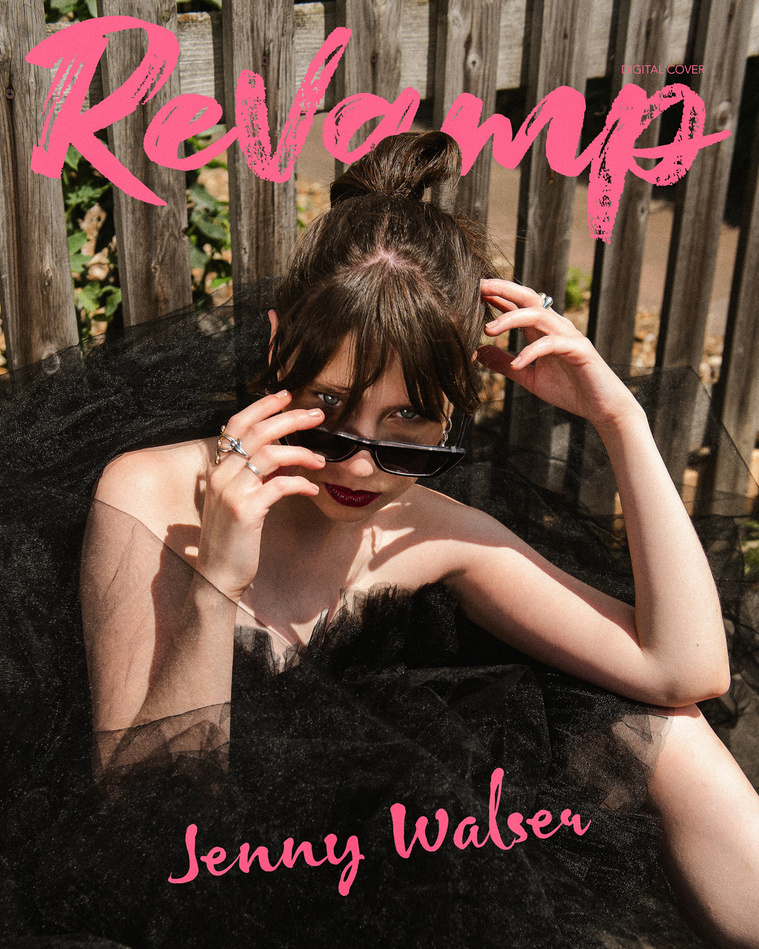 Kindly Note: This interview was conducted prior to the SAG Strike.
It is not everyday you come across a show like Heartstopper. The show that garnered millions of viewers from across the world, breaking in novel records for an LGBTQ+ project has returned to the small screens with its second season.

The project based on the best-selling graphic novels by Alice Oseman follows the life of its two protagonists- Nick and Charlie as they battle their way through a challenging yet heartwarming journey of friendship, exploration, love, and acceptance.
Since the premiere of the much anticipated first season of Heartstopper, Jenny Walser's performance as "Tori Spring" has been termed as a perfect amalgamation of a sweet yet quirky sister. The world surely can't seem to get enough of Tori Spring.
Walser crafted a performance so surreal that her portrayal as the unexpectedly blunt sister took the entire Heartstopper fandom by storm. The role which further transformed into her gateway for showcasing her true artistic abilities also led her to earn an immensely rampant fan reception.
Sunglasses - Dior / Jewellery - Models own / Shoes - Balenciaga / Dress - A Jane from 223 Agency PR
When speaking with Jenny, it's quite evident to witness a sense of quiet humility and gratitude protruding out of the young star.
Her immense gratefulness for the opportunity to be playing one of her favourite characters can be witnessed throughout our conversations.
Indulging in a conversation about the audition process for her character, Walser reminisces her experience sending off her audition tape during the initial strange yet novel era of the pandemic and having a call with the director of the project.
"…It was kind of a smooth sailing compared to most of the other audition processes. I think I was very lucky." She tells me.
"The first round, they just sent through the opening paragraph of the book 'Solitaire'. It's the first book that Alice (Oseman) ever wrote and the book where Tori is introduced as she meets Nick and Charlie for the first time.
Even though it was only the first paragraph, I became quite obsessive over it. I sent in my agent four different versions of my tape.
I believe I spent the longest amount of time on the self-tape for this project than any other I've ever done before. I just loved the books so much."
Walser's portrayal of Tori Spring has already blossomed into a captivating accomplishment into her noteworthy career; successful in stealing the hearts of millions from around the world.
Speaking about the first impressions of her character, Walser revealed her own perception of Tori, giving us an insight into how she initially viewed her as a character.
"We definitely share a mutual dark sense of humour. I thought she was very funny. I loved how strong her relationship with her sibling was.
I have an older sister who I adore and reading about Tori really made me relate to her even more."
When I watched Tori for the first time; having been someone who wasn't familiar with the graphic novels prior to viewing the show, I perceived Tori to be having a sense of duality in her.
Being showcased as a straightforward-blunt character during the initial episodes, we could also see little glimpses of her soft side as the story carries forward. There wasn't a concrete description of her character in my mind; having been immersed within such a complex arc. And everyone seems to perceive Tori differently- constructing their own understanding and definition of the character.
Being the actress who plays Tori herself, I had to ask Walser how she personally defined Tori Spring.
"I agree with you on the duality aspect. I believe the person who brings out her lighter side is Charlie. She's a real sucker for Charlie and I think he's one of the rare people in the world that she really cares about.
Even though she seems emotionless, I think she's like a swan (laughs). Above water they look serene but underneath there's a whole lot of things going on."
Speaking more about what this season holds in for the future of Tori Spring and her character arc, Jenny remarks,
"I believe all of the characters are really fleshed out this season. When I first got the part, I knew that if we were lucky enough to get more seasons, there was going to be one particular interaction with this character- 'David' who is Nick's brother. He's not a very nice guy and isn't very well-loved by the fans due to obvious reasons.
There's sort of a butting of heads of the two siblings which I knew was on the cards. It was very exciting for my character to battle David this season and I got to live my fantasy. That was really fun but other than that Tori is still the same protective, dry, hydrated sister." (Laughs).
Sunglasses - Celine / Shoes - ASOS / Corset & Pants - Rxquette from 223 Agency
The LGBTQ+ inclusive show has already amassed millions of fans prior to the launch of its second installment, all thanks to the huge success of the first season and how it paved the way for representing people with distinct sexualities.
Many fans rushed to the internet even recalling their own coming out stories wishing they had a supportive sister like Tori in their lives which might've made their own experiences much easier.
There was also the unexpected way how the project aided a lot of individuals in expressing their own sexualities to their loved ones.
When asked about her reaction to this and what kind of advice she'd like to give to someone who is still battling and dealing with the complexities of the situation; not being able to come out of their closets to their loved ones, Walser offered some highly impactful words of wisdom.
"It's about finding that one person who you can confide in. And I personally felt really grateful that we as a show could act like that very person in a manner.
It was immensely inspiring to hear stories about people using the show as a tool to come out to their friends, family and loved ones.
For instance, the scene in season one of the project where Nick (Kit Connor) is coming out to his mum as bisexual; I've heard several stories of people watching that particular sequence with their parents and saying 'That's me'.
If you can't find the words to convey it yourself, it's very nice to be that show where we can act like and be those words for you."
During our conversation, Jenny also recalled her experience meeting the cast members and her on-screen brother Joe Locke (Charlie Spring) for the very first time,
"The first time I ever met any of them was in the read-through for the first season.
I was incredibly nervous. A lot of them had already met each other. I walked in and saw all of the characters of the book in real life. The casting was so brilliant, I could tell exactly what character each of them was going to portray.
The second I met Joe (Locke), I just felt protective and such a bond. What can I say? He's every bit as amazing as you'd hope."
T-Shirt - Vans / H&M - Shoes / Sunglasses - Celine / Jacket - Karl Kani / Skirt - Crescent PR
Going further into the recent novel season, our conversation finally strayed toward the future of the project. Revealing details about what the fans can expect from this upcoming installment of the show, Walser adds;-
"Season Two picks up straight after where we left Season One. I think this season will give the fans more of what they love about this show.
There's joy left, right, and center but we also deal with some slightly more challenging topics.
I believe it felt quite pivotal as the characters grew and became more mature, the theme also becomes much more mature.
There's also some of the supporting characters from the previous installment who are brought more central this season, each of them dealing with their own hardship and storylines. The scale is definitely bigger, we go to a different country!
I mean I didn't but I'm not bitter that I didn't get to go to Paris (laughs).
Although the fans can definitely look forward to some very beautiful Paris content from the country. I'm personally very excited to see what they have filmed so far!"
Watch our video interview with Jenny Walser where we discuss some more insightful and exciting things about HEARTSTOPPER below:-
Poised with a highly sophisticated and gracious on-screen and off-screen presence, Jenny Walser is all set to continue and embark on her journey as 'Tori Spring' in the second season of the mega-sensational LGBTQ+ project "Heartstopper"; currently streaming on Netflix.
Heartstopper Season 2 is now streaming on Netflix