Hailie Jade
3rd November 2023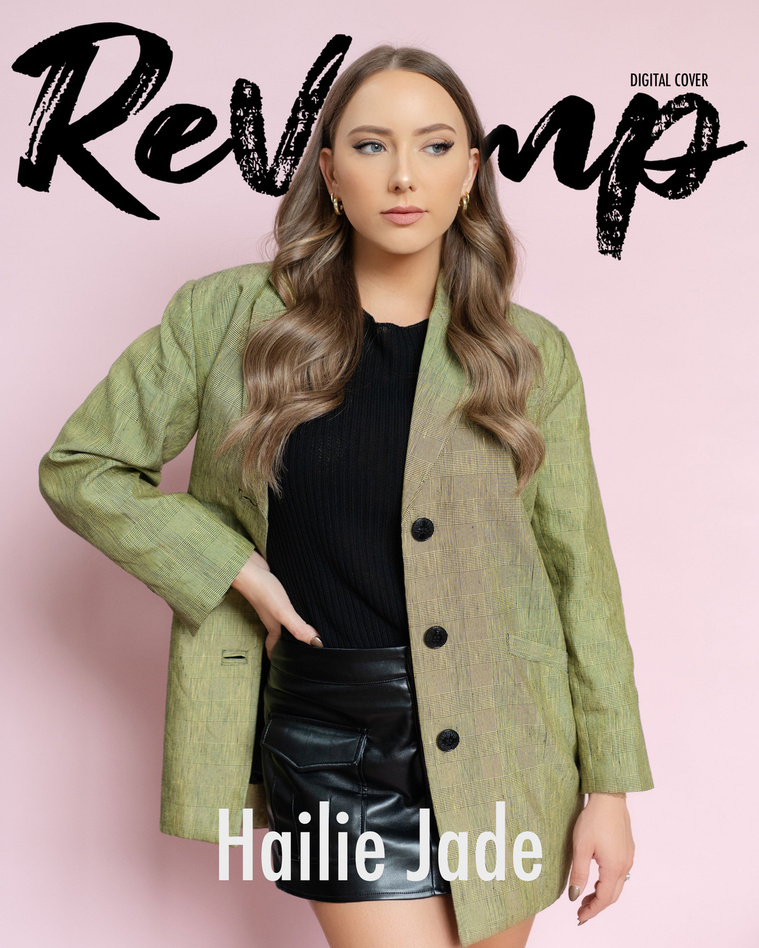 Hailie Jade catapulted within the current landscape of entertainment; intricately crafting a name for herself through several immensely successful creative endeavours throughout her journey.
Embodying her absolute authentic self, Hailie Jade highlighted her journey through her very own platform "Just a Little Shady"; a podcast where Jade aims to delve into diverse topics from everyday experience to discussions on the novel elements of pop culture and entertainment.
Joined by her best friend Brittany Ednie and the occasional special guest from their inner circle, Hailie showcases the audience a glimpse into the untold stories experienced by the star as they collectively throw a little shade on things.
In the first season of what has now turned into an utterly successful podcast, Hailie was witnessed to be sharing candid anecdotes and experiences; sharing pivotal memories from their childhood and the significant build up to the foundation of the concrete friendship the two co-hosts currently share.
The reception on the first installment of the podcast was so immense that "Just A Little Shady" recently returned with a second installment garnering even more fans from around the world.
Jade's entrepreneurial spirit shines through in her diverse ventures. Alongside this widely loved platform, Jade has also strategically expanded her business portfolio, delving into the world of entrepreneurship; recently launching a limited collection of her own merch dedicated to her podcast.
Additionally, Hailie's engagement with her long-term boyfriend also took the world by storm as the announcement not only captured the attention of her passionate supporters but also highlighted her commitment to building her own narrative distinct from her father's legacy.
Portraying to be more than just a podcaster, Jade has also successfully transitioned into a phenomenal fashion influencer, lifestyle blogger, entrepreneur and much more.
Her prowess as a style influencer, her burgeoning entrepreneurial pursuits, and her captivating podcast all contribute to a vivid portrait of a young woman who is confidently shaping her own path.
"Just A Little Shady" is currently premiering it's second season on all major platforms; a novel episode releasing every Friday!
The second installment of the podcast premiered with a special episode dedicated to the Lollapalooza festival where the two co-hosts gained backstage access as they interviewed artists and friends attending the event.
We recently had an insightful chat with our latest cover star- the wonderful Hailie Jade talking about this successful platform that she has built for herself, her fashion inspirations, memorable moments from "Just A Little Shady", her plans for the future and many more significant insights into her professional journey so far.
Hi there, Hailie. It is so lovely to have you over at ReVamp as our latest cover star! How are you doing? How has this year been for you?
Thank you so much for having me! I'm doing good! Between getting engaged and working on season two of the podcast, it's been a very busy- and exciting- year!
I would love to begin our conversation by mentioning the recent launch of the second season of your podcast, "Just A Little Shady." Congratulations on that! Do you remember how the project initially came into inception? What was the initial inspiration behind its conception?
Yes- thank you! Originally, I wanted to find a way to feel more connected to the online audience I have built over the last several years, and I felt like the best way to do that was to start the Just A Little Shady podcast. I also wanted it to be the place where people felt like they could get more of a glimpse into the part of my life that has been so private throughout the years: my family. So, with the title, I decided to go the route of a double entendre- get a little shady on the podcast with all the stories we discuss, and because of my family, I'm also a little shady in that respect!
There are a plethora of podcasts out there, each of them consisting of distinct genres. Is there any element to your own podcast "Just A Little Shady" that you believe makes you differentiate your platform from the other podcasts out there?
One thing we do every episode is share anonymous stories from listeners about shady things going on in their lives. It could be about a cheating spouse, drama at work, fights with family- anything that's a little shady. It's our way of getting to know our listeners better, too- which is so fun!
Over the course of the two seasons, you have so far produced tons of episodes, each of them diving into several significant insights into your life. Out of all the episodes and conversations you have indulged in either with your best friend and co-host Brittany or with your special guests on this podcast, has there ever been a particular episode that stood out for you?
I think one of my favorite episodes so far was having my uncle Nate on! Don't get me wrong- I loved having my sister Alaina on, too, but I knew a lot of the stuff that she shared on the episode before going into it. With my uncle, I was hearing some of his stories about growing up for the first time along with the listeners, so I really enjoyed that!
A lot of your episodes also have you showcasing those vulnerable aspects that you deal with on a daily basis. How do you really feel like putting out such personal moments of yourself for the fans to tune into? Do you ever get nervous?
At the beginning of the podcast, it was definitely a huge shift in vulnerability, but as more and more episodes come out, the level of comfortability goes up.
Was there ever any moment where you felt so scared speaking about an experience of your life that you genuinely started having second thoughts about whether to actually put it out or not?
After we filmed the first episode, I really was questioning the whole idea and even putting it out to start with. That was probably the biggest moment of fear because I had no idea what the reaction would be.
How has the reception been like for the second season of "Just A Little Shady"? Are you enjoying the response you are currently garnering?
I love the little shady community the podcast has built so far! I really think it has gotten to the point where listeners feel like they're just hanging out with friends when they listen, and that is all I could have hoped for!
What, according to you, can your fans expect from the upcoming episodes?
Definitely more guests, more shadiness, and more sharing of all the exciting things going on in my life!
Besides being a wonderful podcaster, you have also garnered the title of a phenomenal fashion icon and a lifestyle influencer, recently even releasing your own line of limited collection merch for the podcast!
I would love to know who has been your personal inspirations in terms of style growing up and how would you personally define your sense of fashion?
Thank you! Growing up, I think a lot of the style inspiration came from what I would see on TV. Whoever the latest Disney star was, really! But, I was always very into makeup and fashion, and my friends always came to me for advice. Then, when I got a little older, I made the decision to start sharing those passions more publicly instead of just with friends and family.
I usually try to follow two rules: keep the style classic, or if it is something more trendy, I try to put my own twist on it.
I think makeup and fashion go hand-in-hand in my mind: do what makes you feel comfortable and like your best self.
What's next for you, Hailie? Any upcoming projects you're keen on telling your fans about? Anything on your bucket list that you really want to achieve in your future years?
No specifics I can share yet, but I will definitely be continuing to focus on the podcast and new projects in that space for the next few years!
(Thank you for taking out your time for this interview, Hailie!)
Lastly, is there any message that you would like to convey to your fans and supporters currently reading this interview?
Of course- thank you for having me, and thank you to anyone who has been supporting me throughout my journey! Stay a little shady!