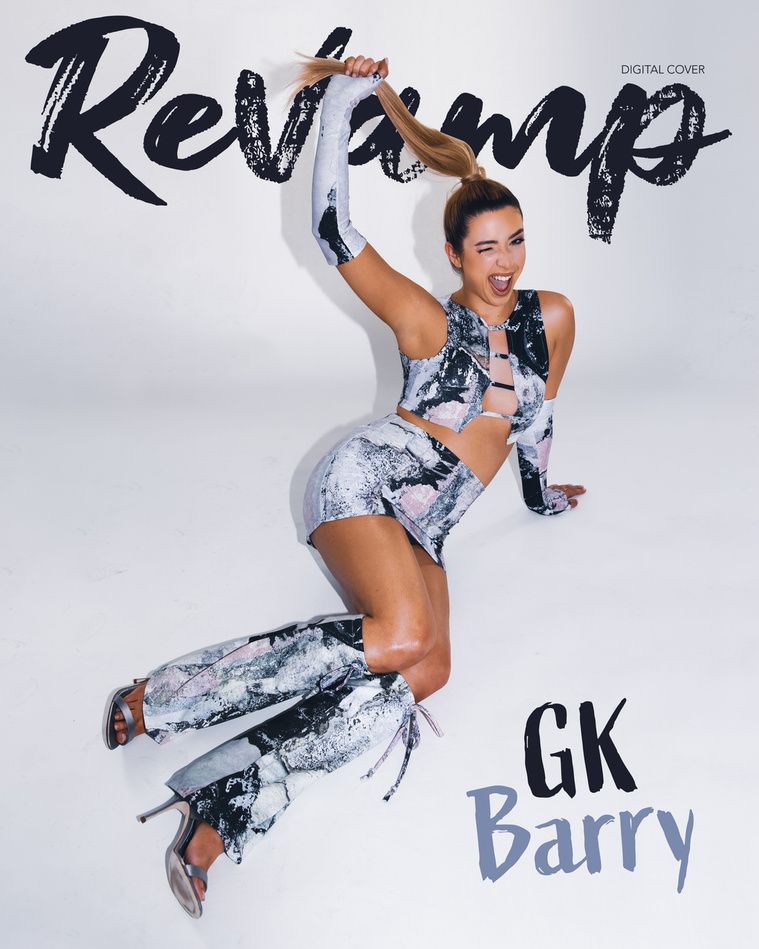 GK Barry - aka Grace Keeling - is a thoroughly modern celebrity. She found fame on TikTok during lockdown with her honest, funny, and sometimes crude accounts of the mishaps that seemed to continually follow her around in her daily life. Her snappy delivery and no-holds-barred approach meant that she quickly established a massive following, which she's since utilised to branch into her hugely successful podcast, Saving Grace, and now a Youtube series, GK Barry's Great British Adventures. We spoke to her about the highlights of her career so far, the secret to success on TikTok, and chatting to Charity Shop Sue.
Hey Grace! How are you?
I'm good, thank you!
Am I alright to call you Grace? Is that the right thing to do? I feel like I want to call you GK Barry!
Yeah, of course, Grace is fine. Everyone says that - they dunno what to call me!
You're like Lady Gaga.
I'll take that any day.
Thanks so much for chatting to us, I'm literally such a huge fan. Your TikToks have made me and my friends scream for years - so thank you for all of the laughs!
That's so sweet.
It all kicked off for you on TikTok during lockdown. What was it that first made you want to get started on the app? I read that you gained a million followers in a year or something crazy like that.
Yeah, it all happened during lockdown. We went into lockdown in March and everyone and their Nan was on TikTok and at first I didn't get it. I was like why are you watching people dance? And then I was just so bored, so I got on the app and I realised it's not actually just people dancing - you can do whatever you want on it, so I thought I'd make my name GK Barry so no one from my school or area would find me, which is ironic now. Then I just started making videos of embarrassing things that had happened to me and experiences with ex-boyfriends. I remember my second video got something like 200k views, which was big news, and I just thought screw it I'm gonna keep doing it. I hit 100k on my 21st birthday, which was in the August. From there, it just flew.
It genuinely does take a talent and a skill - you're so naturally funny and the way you tell stories is brilliant. What do you think it was that made your videos take off?
I think it was just that they're relatable. I hadn't really seen anyone that was just talking about stuff that was embarrassing and were willing to relive it. Like I remember once - this is so rogue - but I was waxing my vagina and I was doing a video, obviously not showing my bits, but I did it and people were dying. I thought right let me tap into things that are a bit crude and go with it.
It clearly works! Can you tell which videos are gonna go really viral?
Say something happens to me or I wanna talk about my day, I know the way to format it. So I'll do my usual really dramatic intro to capture people. I know what people find funny and how to set it up. There's definitely some videos which I think are gonna go so viral and then it just flops, and I'm like that was humbling wasn't it. But I think sometimes it can be the algorithm. I mean my account got deleted six times by TikTok. Bastards. I kept having to email them and be like give me my account back, so there was definitely times where they wanted me off that app.
Dress - Shelley Milla / Boots - Simmi
Why did they keep deleting?
They were like this is inappropriate for TikTok. I had to beg for it back. I was on my hands and knees.
Thank God you got it back!
Honestly. Where would I be now?
The other main thing you're known for now, maybe even more than the TikTok, is your podcast Saving Grace. What made you want to enter the world of podcasts?
At first, it was my manager who said I'd be good at a podcast. But at the time, no one was doing podcasts apart from people like Stephen Barlett. People were starting serious podcasts, so I was a bit like 'Why on Earth would I start a podcast? What have I got to talk about?' Then I went on The Fellas podcast and they said 'You'd be great - let's start one up for you.' I thought do you know what, I am really nosy. I love knowing people's business, why not? And then I remember when the first episode was aired, it was #1 on the Podcast Charts for like six weeks, and I was like right well we made a good decision there.
Who have been some of your guest highlights so far?
I'd definitely say Alison Hammond. Rob Beckett. A lot of the Reality TV stars because I am obsessed with Reality TV. I can find out all the gossip just for my own pleasure.
Jacket - Models Own / Trousers - Remain Birger Christensen / Shoes - Manolo Blahnik
My favourite episode is when Charity Shop Sue came on.
Oh my god, she is an icon. I love her. It's so funny because I've met her before when she was in character, and then I got a cab home with her because we both lived in Nottingham at the time and she was so normal. She whipped off her wig and it felt criminal. I was like put it back on! It was so funny after speaking to her normally and then getting her on as her character. I couldn't take it seriously. It was making me die. But she's such an amazing guest. She really is.
Who would be your dream guest that you'd love to have on in the future?
I would love Alan Carr, Miranda Hart or Jennifer Saunders. I grew up on all of them. The first female comedian I'd heard of growing up was Miranda Hart, and I was like 'Oh my god, women are funny?' I never even knew that before, so I was like right, that's it. And that's sort of what got me into comedy.
You mentioned you love reality TV - what reality TV are you watching at the moment?
I love a bit of Married At First Sight. I love rewatching old episodes of Geordie Shore, TOWIE, Love Island. Any trash TV, guarantee I've watched it.
No one does trash TV like the British!
It's true. Have you ever seen anyone else shit in a plant pot - probably not.
The other project which you've recently started is GK Barry: Great British Adventures, a Youtube series where you get given different challenges every week. In the first episode, you were fighting a professional boxer. How was that experience?
So for the Youtube series, I don't know what I'm doing until I get there. The anxiety levels are high. At the time, I'm absolutely hating it. All of them are just so out of my comfort zone but I'm so glad I did it, because the footage is just so funny.
What was the inspiration for the series?
I've always wanted to do something like this. My family are always saying that I'm so dramatic. And then I watched Rob and Romesh Vs with my boyfriend where they'll go and be like an Olympian for the day or whatever, and I was like I wanna do something like that. And then I did Locked In and the creators of the show were like we can do that for you so I said sign me up.
The dramatics make it very funny.
Always. And it's so fun because I don't ever know what's coming up. They wont even tell my boyfriend or my parents. It's like the Mafia.
I also saw that you went to the BRITs recently - how was that?
I had the best time at the BRITs. I was sat on a table with Tom Daley and I was like my Mum's about to lose her shit. I remember watching him at the Olympics. It was mental. I was surrounded by all these celebrities, and I was like play it cool - and I did until the afterparty where I fell flat on my face in front of Maya Jama. I thought at least it's a good story to tell!
Hat - The Sensualist / Body Suit - Skims
It wouldn't be you if there wasn't some sort of mishap!
I'd be disappointed if there wasn't!
You've done so many amazing things over the last few years. What have been your highlight pinch me moments?
Definitely when I took my podcast on tour. That was mental. I know the podcast is big, but when it's just numbers on a screen it doesn't really register. When I was going into these places and there were so many people there losing their shit I was just like 'Oh my god, this is amazing'. I do get imposter syndrome. I'm sat here like 'I'm loving it, but what am I doing here?'
What are your goals for the future? What's the dream gig?
I definitely want to branch out into TV. And I want to go out and do my podcast in America for a bit. I'm also expanding my businesses a bit more - gonna start releasing some products that should be coming at the end of this year that I think a lot of my followers can get involved in which i think is very on brand
Do you have any advice for any up and coming content creators?
I've always just said be original with your content. As original as you can be. And don't care what people think because realistically if I cared I don't think I'd be in the position that I'm in. I used to get really embarrassed and think what if people from my school see it, but realistically who cares?
Thank you so much for this chat Grace! It's been a pleasure to talk to you !
Perfect, thank you !