Emily Coates
26th May 2023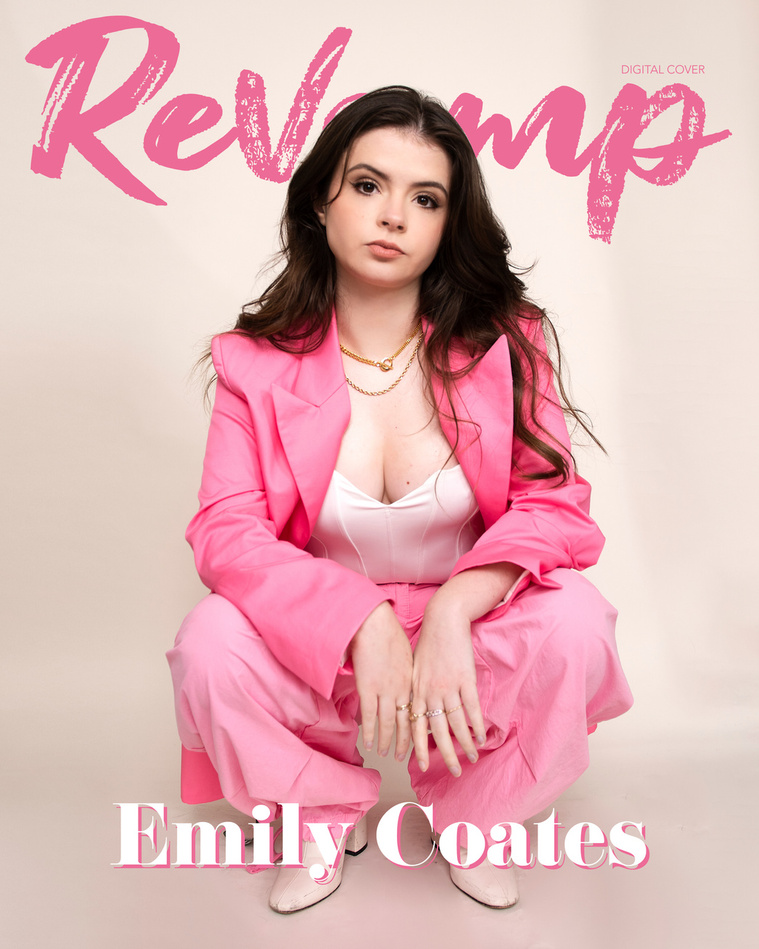 Trousers, Superdry / Blazer, Raquette / Top, Vintage / Shoes, Stylist own
Emily Coates is a talented performer who is making ripples in the acting world. From her previous roles in Cursed (2020) and Ladhood (2019), Emily is continuing to grow and showcase the diversity of her acting skills.
With a brand new role in Disney's live-action reimagining of 'The Little Mermaid' as the character of Rosa, as well as joining the cast of the satirical comedy 'The Great' alongside Elle Fanning and Nicholas Hoult, it's safe to say that Emily is continuing to add some impressive experiences to her acting resumé.
We had the chance to chat with Emily about her career, playing a new character in the live-action 'The Little Mermaid' as well as what to expect from her debut in Season 3 of 'The Great'.
Shirt, Mithridate / Trousers, Vanity Nap / Shoes, River Island
Hi Emily! Thanks for being our cover star for ReVamp. How was this year been?
Thank you for having me! This year has been good! It's strange finally seeing the outcome of projects you started working on 3 years ago!
You're playing an exciting new role in the live-action 'The Little Mermaid' film, directed by Rob Marshall and starring the likes of Halle Bailey, Melissa McCarthy, and Javier Bardem. What was that experience like for you?
Surreal. It was unlike any project I've ever done before, in so many ways. Most of the time I just couldn't believe I was there, especially during rehearsals. I felt someone had snuck me in and I was just watching masters of their craft working and exploring and creating something magical. I will never forget the first time I heard Halle sing "For the First Time", one of the new songs by Alan Menken and Lin-Manuel Miranda, It was just breathtaking. Working with such a talented, hardworking, generous cast was a privilege of a lifetime. I've been very lucky.

You are playing the role of Rosa, an entirely new character for the live-action adaptation of the film. What can you tell us about your character and what was it like preparing for this role?
I felt like I had a great sense of who Rosa was and how she worked from the very first self tape I did for her. But when I was on set Rob and John were always so joyously collaborative, which meant I kept finding more and more discoveries about Rosa's character throughout shooting. Rosa is lazy, bored and a massive gossip, she has spent her whole life working in this castle that's been stuck it's ways. Rosa helps Ariel when she first arrives in the castle but can't quite make sense of why she behaves so strangely. For Rosa, Ariel coming to the castle is the most interesting thing that's happened there in YEARS.
Jeans, Levis / Jacket, Mithridate / Shoes, Prada
You're also going to be featured in the upcoming season of 'The Great', which stars Elle Fanning as Catherine the Great, streaming on Starzplay and Channel 4 in the UK. What can you tell us about the role you're playing and what was it like to join the cast for Season 3?
I had watched the previous seasons and LOVED it so when I saw the opportunity in my inbox I thought 'want that'. I play 'Petra', who is a maid with a very passionate obsession with Georgina (played by the brilliant Charity Wakefield). Tony McNamara's writing is so fucking hilarious and succinct, it meant I got to have so much fun on set with playing Petra. She's got a very clear agenda, unashamed of what she would do just to get close to Georgina.

You have taken on a variety of interesting characters in your career so far. As an actor, how have these roles appealed to you and what is the process like for you in order to prepare to play these characters?
'Interesting' is definitely the word for it. I was always open to anything as long as I felt they were complex enough people. When I got the chance to play a villain, Sister Iris (Cursed), I never wanted to approach it like she was just pure evil. But you know, she probably would be classed as a sociopath. She actually gave me bad dreams every time I was on set as her for a few days straight. The reception to her was the thing I was not prepared for - I didn't take into consideration that an audience would not make the distinction between me and a the character.
What are your hopes for your career going forward - are there any dream roles or endeavors that you hope to achieve?
I've never really had a set goal or dream roles. I've always just been very open and see what comes my way. When the writing is good, the character is just there, and then playing and exploring them as an actor is the fun part. But as time goes on I realise that I would, actually, love to play more well written, openly queer characters. I think that would be mean a lot to me.
Dress, House of Sunny / Sleeves, House of Sunny / Under dress, Beyond Retro
Lastly, have you got any messages that you would like to say to your readers?
Hi. Thank you for reading. Thanks for caring. Thank you to all you kind ones. I appreciate you.
The Little Mermaid is now in cinemas & The Great is now out on Channel 4.