Ashley Alexander
28th August 2023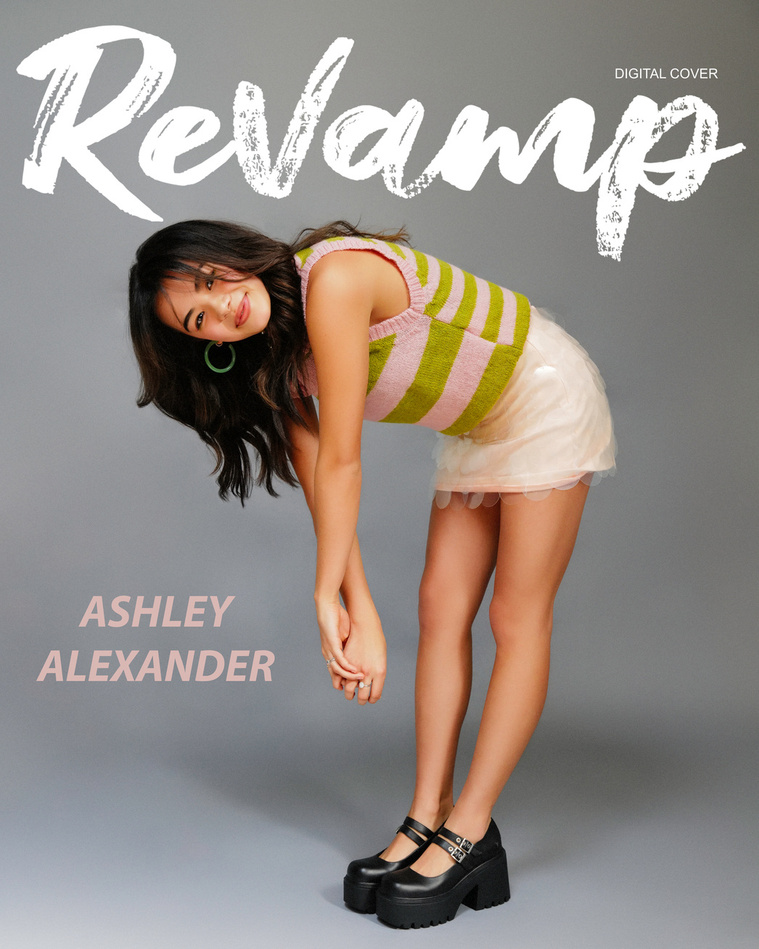 Establishing yourself as a creative content creator seems to be the trend these days. In the novel era of flourishing advancements, the rising popularity of social media platforms like YouTube is expanding day-by-day yet unfortunately not everyone has the potential to become the next big thing.
With over 1.5 Million subscribers and 150+ Million views on her YouTube channel, Ashley Alexander also widely known through her virtual alias 'Ur Mom Ashley' has successfully garnered a tight-knit community of fans from around the world; eagerly latching onto their favourite creator for videos on some significant topics including Make-Up tutorials, styling tips, skincare, try-on-hauls, life experiences, travel vlogs, relationship struggles, nutritional advice, family bond, mental health, her signature matcha and much more.
What makes Ashley's content such a huge success is that she pours every ounce of that element of realism in each of the video she showcases with her fans. You can witness a plethora of content available on her platform yet there's that distinctiveness of her content from that of most of the other creators our there.
It's not just all "happy" experiences that Ashley bounds to share with her fans rather the phenomenal creator has no trouble speaking about her personal struggles sprinkling that vulnerable and intricate side of her life.
Top: Molly Goddard / Skirt: Jonathan Simkhai / Necklace: Rhoury NY / Shoes: Windsor Smith
Intending to build her channel as a space to share her favorite things and freely be herself, Ashley quickly went on to amass millions of followers from across the globe after her initial "Huge Try-On Thrift Haul" video went viral.
As the pandemic came around and society felt closed up, Ashley expanded past her most recognizable YouTube roots and even went on to launch her podcast "Extra Dynamic" where she was frequently joined by friends and family, uncovering fun conversation around mundane topics on life.
Ashley's viral recognition has even gone on to capture the attention of notable domestic and international brands including the likes of Dior, Fabletics, Princess Polly, PeriPera Official and Sony Electronics to name a few.

But that's not all, folks. Alongside her larger than life platform at hand, Ashley recently also decided to launch her own merch line as well as jewelry collection through Honey Lock; "Ur Mom Ashley x HoneyLock" which sold out in only a mere period of time.
With entrepreneurship in her blood, Ashley is extremely keen on expanding into her own Matcha line before the end of 2023, something that won't come as a surprise for her loyal followers who can easily recognize her favorite drink and her absolute love and passion for the latte beverage as also stated on her YouTube bio.
Building up her current content, Ashley is all set to travel new destinations, showcasing novel adventures to her fans and highlighting more of her family and life in the process.
We recently had a wonderful conversation with the YouTube sensation and our latest cover star- Ashley Alexander about her phenomenal professional journey so far.
Hi there, Ashley. Such an honor to have you here at ReVamp. How's it going? How's the start of 2023 been for you?
Thank you so much for having me. It's been an incredible start to 2023! I'm feeling energized and motivated to dive into new projects and adventures. Already, I've had an incredible start to travel, sharing my trips to both California & Japan! I've also recently released an incredible bikini collection with Blackbough Swimwear. The year has already brought some exciting opportunities, and I can't wait to see what else unfolds as the year progresses.
I'd love to begin this interview by asking what it truly was that made you decide that you wanted to immerse yourself in content creation.
For me, it was a combination of factors that fueled my passion to start this journey. I've always been captivated by the power of storytelling and the ability to connect with people on a deeper level. The 2010s era of YouTube played a significant role in inspiring me, as I witnessed creators build incredible platforms and tight-knit communities. It was during my freshman year of college that I officially launched my channel as a way to share my favorite things and experiences. As I continued this journey, I realized how fulfilling it is to connect with my community. The opportunity to entertain, inspire, and make a positive impact is what ultimately drives me to immerse myself in all the content I create.
In terms of capturing and showcasing your life out to millions of people from across the world, does it ever feel like a challenge putting out your personal experiences for the world to see? How do you go about showing the vulnerable insights into your life?
Absolutely! Opening up and being vulnerable requires a certain level of courage. However, I've found that being authentic and transparent has created a genuine connection with my audience. It's important for me to create a space where my viewers can relate, feel understood, and know that they're not alone in their own journeys.
When it comes to showing vulnerable insights into my life, I approach it with a sense of trust and respect for my viewers. I choose to share aspects of my life that I believe can provide comfort, encouragement, or valuable lessons. It's about striking a balance between what I'm comfortable sharing and what can truly resonate with others. Ultimately, by sharing these vulnerable moments, I hope to create a connection that goes beyond the screen.
Having such an immensely strong fanbase out there, was there ever a moment where you personally felt so nervous to talk about something that you started having second thoughts about putting it out for the viewers to watch?
Absolutely, there have been moments where I felt nervous about sharing certain topics or experiences. When you have a strong and engaged fanbase, it's natural to feel a sense of responsibility and concern about how your words or actions may be received. However, I've always believed in the importance of authenticity and genuine connection with my audience.
While it can be intimidating, I've learned to trust in the supportive and understanding nature of my viewers. I strive to create a judgment-free zone where we can have open and honest conversations. It's important for me to remember that vulnerability and authenticity can foster deeper connections and even inspire others who may be going through similar situations.
Your channel has amassed such massive popularity. Is there any piece of advice you'd like to share with aspiring YouTubers?
Thank you for the kind words! To aspiring YouTubers out there, my advice would be to stay true to yourself and your passions. Authenticity is key in this industry. Create content that you genuinely love and enjoy making because your enthusiasm will shine through and resonate with your viewers. Don't be afraid to take risks and try new things, as experimentation is a crucial part of finding your unique voice and style.
Consistency is also important. Building an audience and establishing a community takes time and dedication. Be patient with your growth and focus on creating quality content that adds value to the lives of your viewers. Lastly, don't underestimate the power of engagement. Interact with your audience, listen to their feedback, and build meaningful connections. Remember, YouTube is not just about creating videos; it's about building a community.
You have also launched your own merch line as well as a jewelry collection, and I see you're currently looking forward to expanding your own Matcha line before the end of this year. Huge congratulations on that! How did this idea initially come into existence? Are you enjoying the response that you have been receiving from your fans so far?
Thank you so much! The idea for my merch line and jewelry collection came from my desire to create tangible products that my audience could enjoy and connect with beyond the digital space. I wanted to offer something that represented the essence of my brand and resonated with my viewers' interests and style. The response has been amazing, and I'm incredibly grateful for the support and enthusiasm from my fans. It's a rewarding feeling to see people wearing and enjoying the products I've created. As for the Matcha line, matcha is my absolute favorite drink - I drink it every day! I wanted to share my passion for matcha with my audience, and I'm excited to bring that vision to life!
It clearly can be witnessed just how diverse your platform is. From beauty vlogs to travel, life experiences, fashion, nutrition, struggles, family, mental health, relationships, it's like you've got everything covered. Is there any specific field/topic that you personally love to incline towards making more videos on that you still haven't had the opportunity to do so?
Thank you for acknowledging the diversity of my platform! I'm grateful to be able to explore a variety of topics and share different aspects of my life. While I've covered a wide range of subjects, one area that I'm particularly interested in exploring more is personal growth and self-improvement. I believe in the power of continuous learning and evolving as individuals, and I would love to delve deeper into this topic and share insights, advice, and personal experiences that can inspire and empower my viewers to become the best versions of themselves.
What, according to you, has been the most memorable moment in all of your YouTube and professional journey overall?
It's tough to pinpoint just one moment, as there have been so many incredible memories throughout my YouTube and professional journey. However, if I had to choose, I would say that one of the most memorable moments was hitting one million subscribers on YouTube. It was a significant milestone that represented not only the growth of my channel but also the amazing community that had formed around it. It was a humbling experience to realize that there were one million people out there who enjoyed and supported what I created. That moment reinforced my passion for what I do and inspired me to keep pushing forward.
I see you recently traveled to Japan. How fun! Can we expect some more travel vlogs and adventurous videos from you in the future? Any place on your bucket list that you'd really like to visit if given an opportunity?
Thank you so much! Japan was absolutely amazing! It was a very special trip since I went along with my siblings, and it was their first time ever traveling outside of the United States. We got to learn a lot about Japanese culture, food, and of course, matcha! Traveling is one of my greatest passions, and I love sharing my experiences with my viewers. So yes, you can definitely expect more travel vlogs and adventurous videos in the future. As for a bucket list location, I'd definitely like to visit Korea with my mom one day! I'm half Korean and have always wanted to visit, but I want to wait until my mom is able to go with me.
(Thank you for your time!) Lastly, I'd love to know if there's any message that you'd like to convey to your fans reading this interview.
Thank you for having me, and thank you to all my amazing fans who are reading this interview. I want to express my deep gratitude for your support, love, and encouragement throughout my journey. You inspire me to keep creating, exploring, and pushing boundaries. Remember to always stay true to yourself, embrace your uniqueness, and pursue your passions relentlessly. Life is an adventure, and together, we can make the most of it. Thank you for being a part of my community and for joining me on this incredible ride!